AUTUMN 2015

Unfortunately, due to the High Street closure, it will not be possible to run a heritage bus service on Heritage Open Day. As a group we are really disappointed at having to make this decision, but we know from experience that the congestion on diverted routes make any sort of regular bus service impossible. When similar action has been taken in the past all traffic in the surrounding areas became grid-locked making it virtually impossible to run Park and Ride or Service Buses, never mind a Free Bus Service. Many of our buses are owned and/or driven by professional bus drivers who aren't willing to add to the congestion. Unfortunately it's a choice between High Street closure vs Heritage Bus Service. We get the feeling that our efforts are no longer required by the new organiser of the event. Some of our regulars have suggested that the event organisers need a serious reality check. Some have already written to the local press complaining that the popular heritage buses can't run. Here's one email we received:

"I have been digesting the various emails and while I was happy to wait and see if you could make something of it I fear that the group is right about the traffic. There is no way we can influence the Council (except with a large brown envelope!). The residents of our town have long been at odds with these idiots - so much for democracy The town roads are clogged on any Saturday, so the alternative routes will gridlock, added to which "the idiots" are giving parking concessions which will add more cars. The Park & Ride, which would have helped, has been rendered useless, I wonder what County think of that. They do not seem to have noticed us during the years we have shifted crowds for them, the concensus of opinion amongst the rest of the regulars is they do not deserve us, let`s see if they notice our absence, I think not. It is our time, insurance and other costs, why waste it on them. I attach the publicity they have issued, so you will see there are `others` involved - draw your own conclusions. Many thanks for your efforts anyway. Would you confirm to me that you have definitely called it off as I have to get in touch with our drivers. Gary."

SUMMER 2015

Most of our news can now be found on our Facebook page so only brief summaries will appear here!

On 23rd August, WAH587S, G39HKY (Dan Trent's new vehicle0 and UVX7S attended the Old Buckenham Airfield Rally near Attleborough. On 16th August RGV690W had made her last outing for Dan Trent when she accompanied UVX7S to the Cambridge Bus Rally at Cheddars Lane. Dan has now acquired a Judds Scania bodied Van Hool coach. On the 9th August, sevral CEPB buses supported the Lions Club Fun Day on Mersea Island followed by BUF426C's regular appearance at Clacton Carnival. On 19th July, FWC439H made her regular trip to the Alton Bus Rally & Running Day at

Anstey Park, Alton. 14th June - Michael & Sarah Cole attended the Wilts & Dorset Centenary Event, Salisbury with Michael's Wilts & Dorset vehicles. On 7th June was the Southdown 100 Rally, Southsea Common - BUF426C had de-camped to the area, along with UUF335J, for several centenary events.

MAY 2015

31st May was the 7th Annual Clacton Bus Rally. Early in the morning, BBC Radio Essex broadcast live from the rally site and had a grand old time on AJN825. Richard Walker, one of the rally organisers, was interviewed. The rally went smoothly with an excellent turnout of vehicles. Yeldham Transport Museum turned up in force and kindly sent some of their vehicles out on extra/duplicate services. Our sponsor, Adam Barham & Sons/Panther Travel also sent a variety of buses and coaches, some of which were in service during the day. First (SN15 AFF Wrightbus Streetlite & LT52 XAB Dennis Trident 2 / Plaxton President) and Hedingham (Go Ahead) (Scania N94UD / East Lancs OmniDekka ) both displayed some of their most recent vehicles - these are always an attraction for the keen enthusiast who might not have seen them on service.

There was an excellent turnout of heritage vehicles including a Northampton Crossley (VV9146) on its maiden outing, displayed alongside a Sunderland Crossley (GR9007), and Michael Cole's KRU848W now back on the road after a period of restoration. Despite the overcast and sometimes rainy weather, the open-top tours were popular and were run by BUF426C (Southdown Queen Mary) and 159CLT (London Bus Company's Routemaster). YDL315 (southern Vectis) from the Isle of Wight also ran short mystery tours in the afternoon, displaying Blackgang as its destination! VKF894H (a 20 seat Bedford J2 "Little Nel") was also out on service. A big thank you to everyone who ran buses and coaches in service and provided feeder services to and from the rally.

The collectors market was a little down on last year, perhaps due to the weather forecast (thanks to "El Nino" weather patterns apparently). There was plenty there for enthusiasts and the general public to browse and we saw plenty of youngsters clutching model vehicles. A special thanks also to Maxine who ran rally control and to Josh, Jake & Barry from the Suffolk Bus Preservation Group Support Vehicle. Our caterers were Eastside Diner (Norman & co) and our First Aiders were Clacton Shopping Village staff (thankfully we didn't need to call upon them). Thanks also to the public who came along to ride on the buses and browse the stalls. Some had never been to a bus rally before and had turned up out of curiosity after hearing about it on the radio. Others had come considerable distances to be there. Some were surprised to learn that we are all volunteers and fund this event ourselves. At the end of the rally, we could all breathe a sigh of relief that everything had gone well. We hope to be back at the same venue next year.

visit CEPB Facebook Page to see more comments, as well as links to photo galleries and YouTube clips.

17th May saw the Yeldham Transport Museum Day with KOO790V, UVX7S, UFM53F, UUF335J, RGV690W and BUF426C all in attendance.

APRIL 2015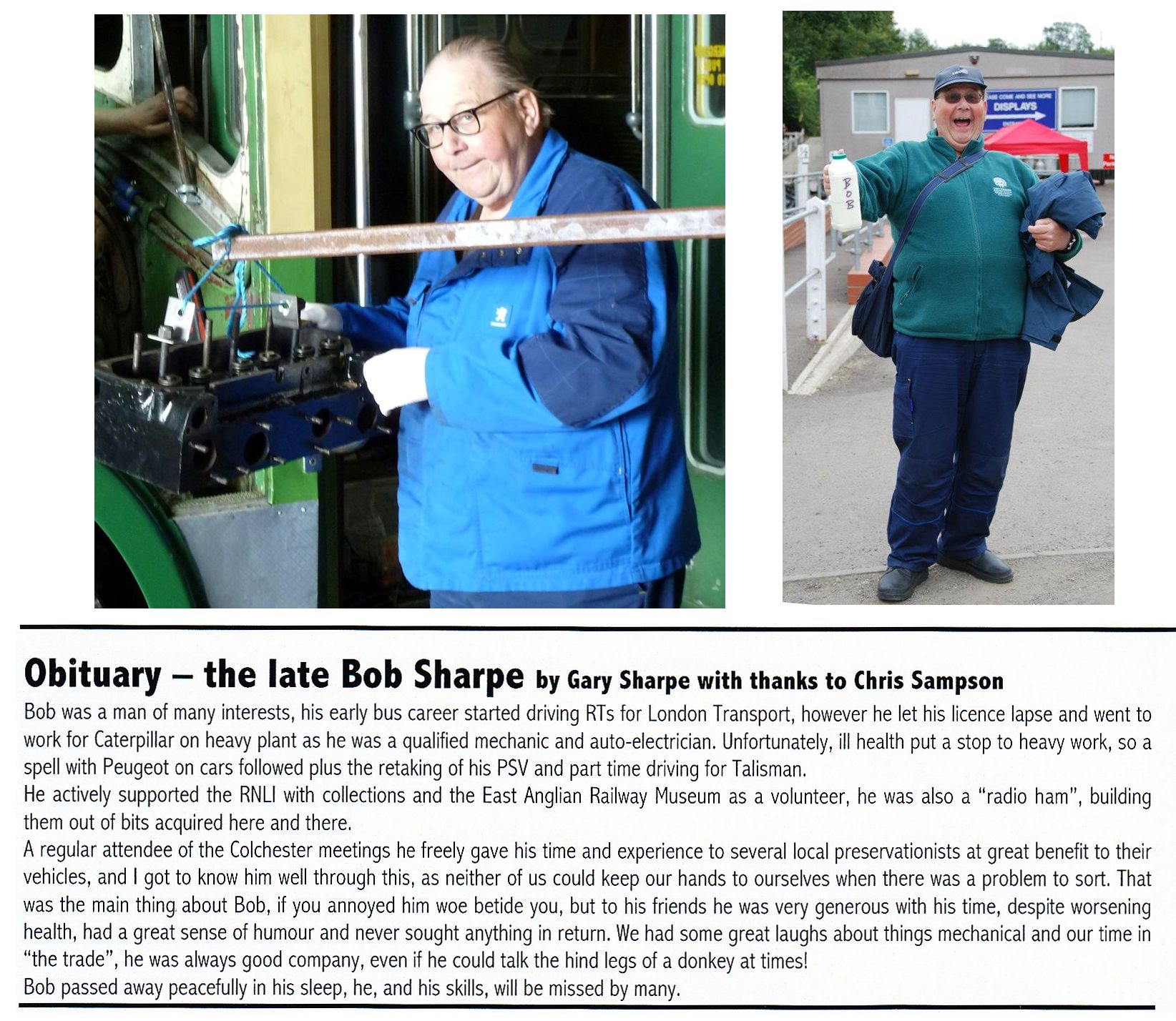 MARCH 2015
22 March: Norwich Classic Bus Day from 11 am to 5pm. Bristol RELL UFM53F made her inaugural outing under the ownership of Fred Lawrance, Chris Sampson & Bob Sharpe. She was accompanied by BUF426C (Fred Lawrance) and WAH587S (Richard Walker). Despite intermittent rain, it was a smooth run and nice to be beside the seaside again.
OCTOBER 2014
19/20th Oct: Isle of Wight.
19-20 October: Isle of Wight Museum. Michael Cole's Hants & Dorset VR JJT437N attended this rally.
12 Oct: Warminster. Michael Cole's Hants & Dorset VR JJT437N attended the Warminster Rally in preference to the Canvey Island event.
Sunday 12th October: Canvey Island Transport Museum Rally & Open Day. RGV690W, UVX7S, UUF335J and SVW274K (Luke Deal's new RE). Despite a wet Saturday, Labworth Park remained dry enough for vehicles to be displayed on the grass and the rain held off until the evening. As well as the buses, there were classic cars, vans, military vehicles and fire engines and free shuttle buses between the Museum & Classic vehicle display and Labworth Park.
Wednesday 8 October: Ford, Dunton Vehicle Enthusiast Day. UVX7S was due to attend this staff-only classic vehicle rally, but heavy rain in the preceding days meant this event was cancelled.
5th Oct: Ipswich Transport Museum Classic vehicles Day.
SEPTEMBER 2014
21 Sept: SHOWBUS, Duxford - RGV690W, UVX7S, BUF426C, SPK203M, SVW274K all made the trip to Showbus at the Imperial War Museum, Duxford Airfield. During the event, Fred Lawrance negotiated the sale of the SPK203M which will be leaving the barn for pastures new and continued preservation. Luke Deal's recently restored Bristol RELL, SVW274K, made its show debut in Eastern national NBC livery and won a prize for Best Preserved Bus in its class. On the social side, there was a picnic at RGV690W where CEPB members and friends dropped in during the day. Fred Lawrance found anew owner for SPK203M at this event.
Saturday 13 Sept saw the Colchester Heritage Running Day supporting the Heritage Open Weekend. Due to the redevelopment on the Hythe and the Cadet Ship being closed, this year it ran from the Lorry/Coach Park on Sheepen Road, providing a Park and Ride service and two morning runs to West Mersea (low tide period). BUF426C, RGV690W, UVX7S, FWC439H, JHJ160V and visiting vehicles GR9007 and AJN825. The move from the Hythe made this quieter at the layover area than in previous years. The two West Mersea trips in the morning were popular as scenic trips. The links between heritage sites were most popular between late morning and mid-afternoon. The Lorry Park made it easier for disabled visitors to view the buses and chat to the crews.
Weekend 6-7th Sept: East Anglian Transport Museum Gala end of season event included a visit to CEPB by members of the Isle of Wight Bus Museum.
AUGUST 2014
24 August: UVX7S attended the Eastern Transport Collection Bus Rally at Old Buckenham Airfield, Norfolk. She wasn't able to offer a shuttle service due to driver availability (for a manual transmission vehicle), but she made a detour into Attleborough for a quick photoshoot. The day was made even more exciting by meeting a confused taxi going the wrong way round the A14/A140 roundabout near Needham Market!
Saturday 9th: Lions Club Family Fun Day on Mersea Island. JHJ150V, UVX7S, WAH587S and RGV690W supported the West Mersea Lions Club Fun Day at Waldegraves Leisure Park, West Mersea. The regular shuttles to and from the venue, including a scenic ride along the seafront, suffered somewhat from the traffic and from parked vehicles close to Waldegraves Leisure Park, but it was otherwise a successful day. Open topper BUF426C wasn't able to attend on this occasion.
August is the month when BUF426C makes her annual appearance at Clacton Carnival. Although the Carnival theme was "Fairy Tales" her crew has opted for more conventional garb.
JULY 2014
Sunday 27th saw Dan Trent's Bedford, RGV690W, and Sarah Hartwell's Bristol LH, UVX7S, attended the Cambridge Omnibus Society's small, friendly rally at the Cambridge Museum of Technology. It was a scorching hot and sunny day and the buses did a free hourly round-trip to the City Centre. Meanwhile, Michael Cole's Bristol VR, JJT437N, travelled further afield and attended the rather larger Worthing Seafront Rally to enjoy the buses, scenic rides and sunshine on the south coast.
General July Update: During rally season, owners face all sorts of issues which can put a vehicle off the road for days or weeks. The open-top PD3 developed an electrical fault in the cab; this might be related to the soaking it got at Walton Classic Car show a few weeks earlier when water infiltrated a switch and kept setting off an alarm buzzer. Fingers crossed, Bob Sharpe and Chris Sampson will be able to trace and fix the fault so she's back out for the rest of the rally season. David Edward's Bristol RE needs a new exhaust, which must be custom built and Paul Ashman's RE has had a new floor covering fitted, but has developed has a starter motor problem. Leon Wells' Excel has had some coolant system problems. Michael Cole's Olympian's engine and a Wilts & Dorset VR's electricals need attention to get them back onto the rally circuit. Sarah Hartwell's LH has intermittent clutch problems left over from the clutch failure last year. Richard Walker's B21 suffered a blowout on the way to Ipswich and David Edward's RE suffered flat tyre on the way back from St Albans due to a leaky valve and broken patch. These are some of the things sent to test the dedication (and bank accounts) of bus preservationists. On the other hand, VR owner Luke Deal has passed his PSV test and, if he wants, can now drive fully loaded on running days.
Sunday July 20th: Both UVX7S and JJT437N made the trip to Alton, Hampshire where the latter also gave free bus rides. The weather held throughout the day, only turning to rain on the return journey somewhere around Clacket Lane Services. As well as buses, there were plenty of classic cars, commercial vehicles and stalls.
Sunday July 6th: This was a busy weekend with 4 events to choose from: Sheringham, Peterborough, Long Melford and Walton-on-the-Naze. On this rather rainy Sunday, Michael Cole's Hants and Dorset VR JJT437N went to the North Norfolk Railway at Sheringham, while Fred lawrance and Chris Sampson's open top PD3 BUF426C stayed closer to home at Walton Classic Vehicle Show, Bath House Meadow Princes Esplanade, Walton on the Naze, giving rides between Walton and Frinton.
JUNE 2014
Sunday 29th June: David Edwards' Bristol RE, FWC439H, made the trip to the herts Showground for the Bus and Coach Preservation Rally. In 2013, this rally had been held at Newbury where it had been well-attended. Unfortunately, this year the number of exhibits was low, although they included a Model T Station Bus and a Charabus. The RE gave free rides around the showground and our PCV-licenced drivers had the opportunity to drive several other vehicles around. The main excitement happened on the way home with a flat back tyre and the AJN825 group coming to the rescue at Braintree because one of their members had access to a high pressure air-line at a premises nearby! Once reinflated, we made it safely back to Colchester.
On Sunday 22nd June, RGV690W and BUF426C attended the EATM's "Hop on a Bus" day at Carlton Colville, Lowestoft (Eastern Counties and Ipswich Buses territory). Meanwhile UVX7S went in the opposite direction for the North Weald rally (historically London Transport, and now Arriva territory) along with some vehicles from the neighbouring Yeldham Transport Museum. It was a gloriously sunny day for both these events.
June 8th - KOO790V (Luke Deal) joined a number of other classic buses at Aldham Old Timers Rally.

Sunday June 1st - This was our annual Clacton Rally and Running Day when the group takes over part of Clacton Shopping Village Car Park. The weather was perfect all day. As well as displays of buses and coaches of all ages - ranging from 75 year-old half-cab buses to new luxury coaches - there was a collectors' market and free classic bus rides. The popular hourly Seafront Circular Tour was operated by the Southdown PD3 BUF426C and Eastern Counties VR OCK995K. The Great Holland and Walton services were also very popular with our visitors. Catering was provided by East Side Diner. Although there were fewer vehicles than last year, there were more visitors, many of whom also took advantage of the Shopping Village facilities and the free rides into the Clacton town.
Many thanks to everyone who supported our rally - the Clacton Village staff, our sponsors, everyone who brought vehicles (either for static display or for free services), the marshals and volunteers (who don't get to see many of the visiting vehicles) and the stallholders. A special thank you to the volunteers who help set up the rally site before buses arrive and who clear up and rubbish pick after everyone else has left. A full Clacton Rally 2014 report with photos will go online once the organiseers have caught their breath! Next year's rally will be the last Sunday in May.
MAY 2014
26th May (Bank Holiday Monday) - a number of CEPB/SBPG vehicles supported Ipswich Transport Museum's Bristol Buses Running Day. FWC439H (David Edwards' RE), UVX7S (Sarah Hartwell's LH), R186DDX (Leon Wells' Ipswich Park and Ride Optare Excel) and WAH587S (Richard Walker's Leyland Greenway) all attended. The Excel and Greenway aren't Bristol buses, but they operated in the local area. Routes ran into Ipswich town centre, Nacton and Kesgrave Bell. Some of the other buses present will be attending the Clacton rally on 1st June.
18th May - Sunday 18th May. Bristol RE FWC439H (David Edwards), PD3 BUF426C (Fred Lawrance & Chris Sampson giving the PD3 her first rally outing since the engine rebuild) and Bristol LH UVX7S (Sarah Hartwell) went to the Yeldham Museum open day and bus rally. UVX7S left Yeldham after lunch to attend another event. Among the attractions at Great Yeldham was the "Borismaster" London bus, which gave round trips to Halstead, and the model railway layouts in the museum. Another photographic treat for enthusiasts was First's Trident, in retro red and cream Westcliff-on-Sea livery, parked next to 75 year old Westcliff-on-Sea AJN825. Great Yeldham is always a great social event as well as an interesting bus rally and running day.
Meanwhile Bristol VR KOO790V (Luke Deal), now sporting Badgerline vinyls, spent the morning at the East Anglian Rail Museum at Chappel & Wakes Colne for their Transport Extravaganza. This event had a mixture of trains, classic cars, camper vans and a roadroller. After leaving Gt Yeldham, UVX7S spent the afternoon at EARM, taking the VR's place until the event ended. This was a busy Sunday for classic vehicle enthusiasts with a choice of classic car shows, a classic transport extravaganza and a bus rally in the mid- and north-Essex area.
10th - 11th May. Several of our vehicles supported the "Built and Operated in Suffolk" event at the East Anglian Transport Museum, Carlton Colville, near Lowestoft. Leyland B21 B115LDX (Richard Walker, Saturday), RGV690W "Prince of the Road" Bedford RGW690W (Dan Trent, both days), Eastern Counties Leyland Greenway WAH587S (Richard Walker, Sunday) and Ipswich Park & Ride Optare Excel R186DDX (Leon Wells, Sunday) attended and were in service giving free rides between the museum and either Beccles or Lowestoft. The vehicle owners also drove some of the other buses in service including an Eastern Counties Bristol VR and an AEC Swift. Dan Trent stayed overnight and was early morning Park and Ride runs. The others were day visitors, picking up friends from the Ipswich Transport Museum en route. Saturday was a dry sunny day, but the weather turned rainy and blustery on Sunday with the result that more of the visitors spent their time riding inside nice dry buses! The return journey included a trip around Lowestoft to pose RGW690W, WAH587S and R186DDX at Lowestoft bus station and also outside the depot. The Sunday journey home was eventful when police closed part of the A12 southbound between Kessingland and Benacre and diverted southbound traffic through a narrow layby strewn with potentially tyre-damaging debris, overhanging branches and a parked car. A few miles further down the A12, ITM's Atlantean MRT6P was found broken down and we stopped to see if we could help or take on their passengers … and to compare notes on the hazardous police diversion.
4th May - RGV690W (Dan Trent), JHJ160V (Adam Barham, driven by his dad Steve) and WAH587S (Richard Walker) participated in the Ipswich to Felixstowe historic vehicles road run. CEPB vehicle-owners Michael &amp Sarah Cole, Leon Wells and Sarah Hartwell took passenger seats this year. After assembling at Chichester Park, Ipswich, the bus entries led the convoy of vehicles to Felixstowe seafront where they were displayed to the public. It was a great day out with sunny weather and much of the route was lined with onlookers waving and enjoying the show.
Meanwhile, on 4th May, SPK203M (Fred Lawrance) went to a Green Line Running Day in Harlow. Driven by Chris Sampson and Bob Sharpe, this was her first proper outing since sundry repairs.
May - preparations for Clacton rally: In the first weeks of May, adverts are booked in local newspapers. In the last week of May we are getting ready for our annual Clacton Rally - this means making sure we have final versions of the duty sheets and car graphs, programmes and rally mugs are printed, checking we have enough cones for the site, and packing those cones and CEPB sales items into the buses. A lot of planning finally comes together in the week before the rally. On the day, security will unlock the gates and the "cones express" (a bus which is packed several days beforehand) arrives to cone off sections of car park. Next, the stalls arrive early so they are set up before most of the buses start parking up. The rally control bus sets up. CEPB vehicles either arrive and park up or head off to do local feeder services. CEPB drivers and volunteers check the site for debris that might damage tyres (and remove it). Sponsors and some exhibitors arrive early (by prior arrangement) to display their buses as a group. East Side Diner start cooking so that the "early crew" can have tea and breakfast butties! Once the buses start arriving, marshals direct them to sections of the rally site and maintain a one-way system for pedestrian safety. From then on, it is non-stop, making sure services go out on time and that we have enough drivers. At the end of the day, a few buses remain late for special photo line-ups while the cones are being collected, the site is being checked for rubbish/debris (which must be removed) and the rally control bus is packed up. The car park must be left exactly as we found it. With rally staff physically and mentally tired from keeping everything running (relatively) smoothly, the cones and saleables are usually unpacked from buses during the week when we've got our energy back.
JANUARY - APRIL 2014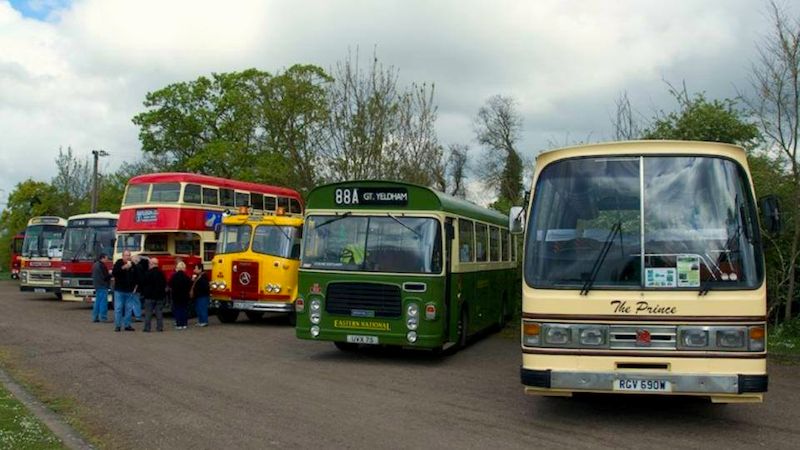 27th April – RGV690W (Dan Trent) and UVX7S (Sarah Hartwell) attended the Classic Vehicles Rally at Colne Valley Railway at Castle Hedingham where they attracted some interest from owners of classic cars, some of whom wanted to compare the cab of a bus to the driver's seat of their car. Some buses from the Yeldham Transport Museum and AJN825 also attended, so there was an opportunity to catch up with others and discuss the upcoming Clacton Bus Rally. Meanwhile, back at the barn, work on the" Cole Traction" fleet, on BUF426C (cab and electrics), on (SPK203M radiator)and UFM53F (new floor covering) continued ready for the Clacton event. R186DDX then went out in the evening to finalise the timings for the Clacton free rides.
13 April: a number of CEPB/SBPG buses made the short trip to Wormingford to celebrate the 75th birthday of "The Essex Lady" AJN825. In attendance were B115LDX, FWC439H, JHJ160V and UVX7S. The AJN825 Group put on a fantastic birthday spread as well as a display of classic cars, army vehicles and others brought along by invited friends. Photos at AJN825 Birthday
6 April: B115LDX (Ipswich Buses livery) was supporting an Ipswich Transport Museum's Retro Car Day by recreating the Southern Circular route.
5 April: Unfortunately the planned January outing to the King Alfred Running Day in Winchester didn't go ahead due to the weather, so the first CEPB/SBPG outing was on April 5th to the South East Bus Festival at Detling, Nr Maidstone, Kent. B115LDX (Ipswich Buses livery) made the trip. The weather stayed dry and an enjoyable time was had by all.
Over the winter months we spend the weekends maintaining the vehicles; this ranges from stripping down and rebuilding an engine, to repairing bodywork and touching up paintwork.
April - rally preparations: During April we're at the stage of performing risk assessments and arranging Public Liability Insurance for the rally as well as making sure we have a burger van arranged.
March - rally preparations: Adverts are booked in bus magazines and invitation postcards are sent out to local operators and previous year's exhibitors. The event is added to local events calendars only. We also send press releases to monthly publications (which have a long lead time) to try to get featured in the magazine or their events diary.
DECEMBER 2013
OCTOBER - NOVEMBER 2013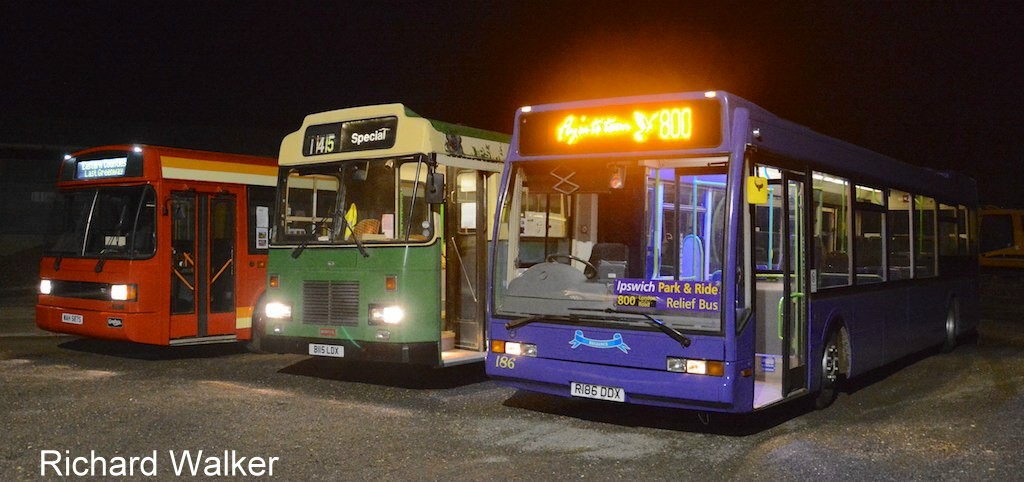 10 November: A number of CEPB vehicles attended the Ipswich Transport Museum Winter Warmer event. This atmospheric event included bus rides into the evening. B115LDX, WAH587S, R186DDX (all from the Ipswich area) and SPK203M all attended. This was the last of our scheduled attendances at events, though a few CEPB vehicles will probably be out and about over the winter period.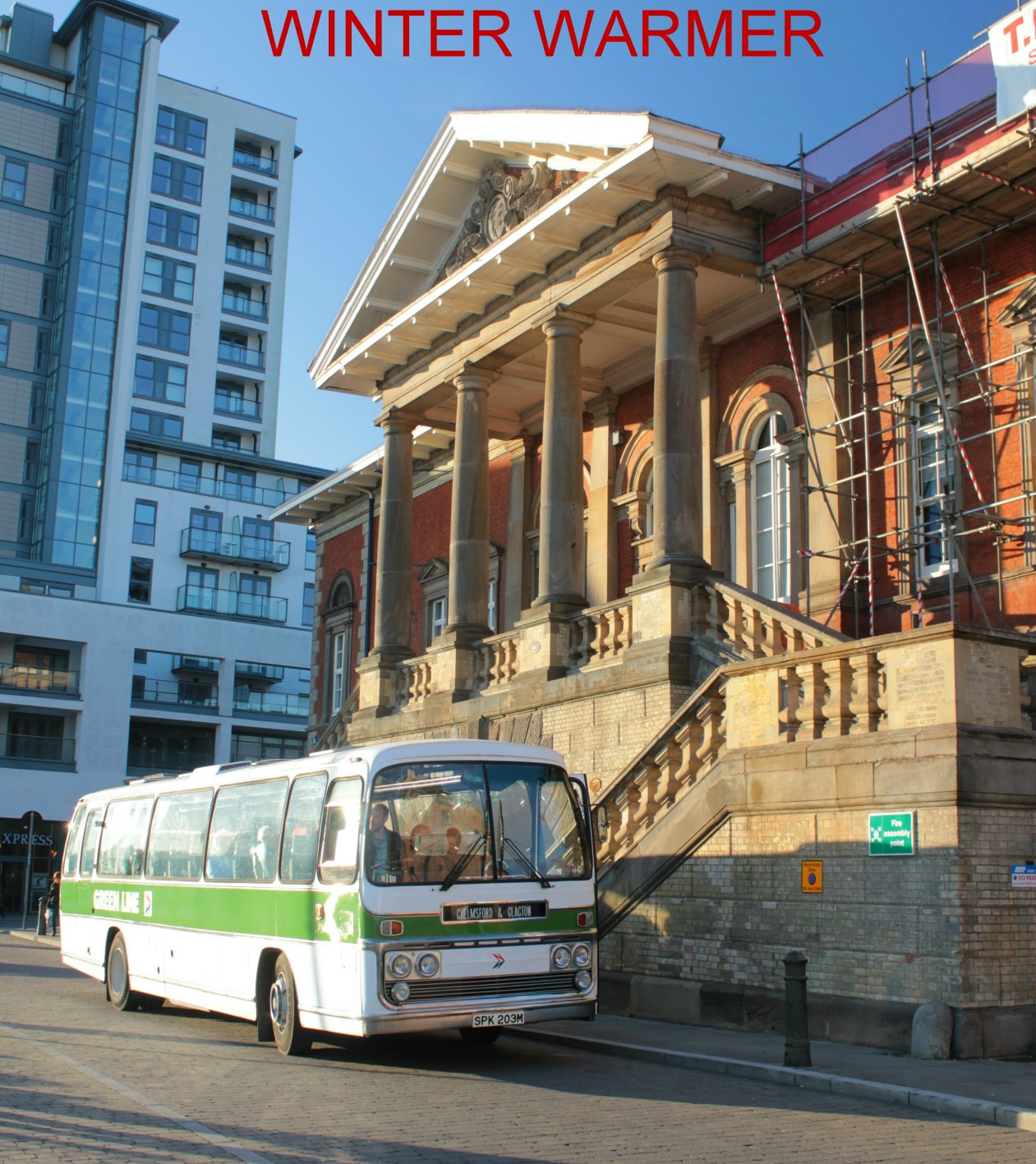 27th October: UVX7S went to the Mangapps Rail Museum, Burnham-on-Crouch for their end-of-season Rail and Road Transport Day.
20th October: JJT437N went to the Isle of Wight Bus Museum Autumn Running Day at Newport Quay. This included taking JJT437N on a trip to the Southern Vectis depot in Ryde to look around the garage. This is JJT's last planned outing for 2013 and it will now spend autumn and winter undergoing further restoration.
13th October: Despite appalling rain, several CEPB vehicles braved flooded conditions to attend Canvey Rally and Running Day. R186DDX, SPK203M, WAH587S and RGV690W made the trip, but UVX7S decided not to go swimming. About 20 out of 100 bus exhibits did get there and the museum was busy.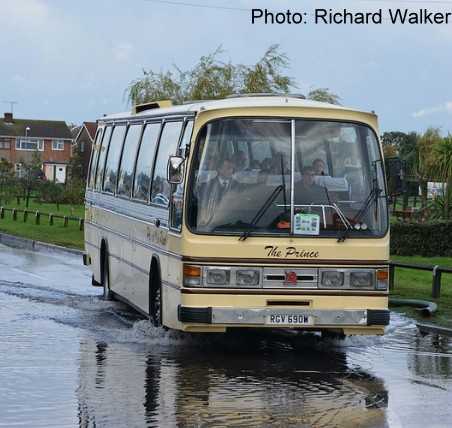 Bus & Coach Preservation magazine (Nov 2013 issue) featured a 24-page article Geoff Mills wrote about "The Cole Fleet".
SEPTEMBER 2013
29th September: WAH587S, B115LDX and R186DDX were joined by vehicles from Ipswich Transport Museum for a celebration of 60 years running routes on the Chantry Estate, Ipswich. These buses ran free services for enthusiasts on routes through the estate and to the station. With only a short time available for publicity, it was not the busiest running day we've supported, but photographers were lying in wait in various places around the estate to snap the vehicles in those locations.
15th September: WAH587S and FWC439H attended East Anglia Transport Museum's "End of Season Event" at Carlton Colville.
Saturday 14th September was Heritage Open Day and once again CEPB arranged free bus rides between The Hythe, St Leonard's Church, Colchester Castle and Bourne Mill. The weather was not as good as previous years which meant a lower turnout of passengers than before. We were once again joined by GR9007 (Crossley DD42) from Wormingford; this is always a very popular visitor. Richard Walker has produced a chart showing how many passengers each journey and bus carried during the day - as always, things got busier at lunchtime.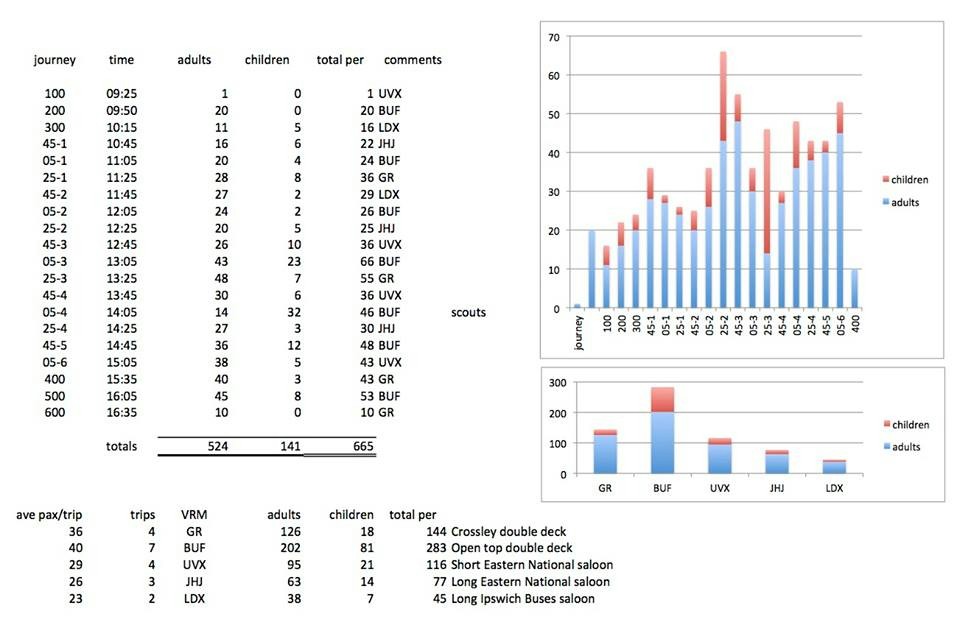 1st September 2013 - RGV690W made the trip to North Norfolk Railway's "Steam Gala Weekend". This was an outing for the rail enthusiasts with several steam locos operating.
AUGUST 2013
18 August: WAH587S, B115LDX and J160LPV travelled in convoy to the Eastern Transport Collection Bus Rally at Old Buckenham Airfield, Norfolk. During the day, each vehicle ran a free trip into Attleborough. Local flying enthusiasts provided aerobatics displays during the day. On the way back, the buses stopped at Diss Bus Station for a photoshoot.
17 August: BUF426C, RGV690W and JHJ150V supported the West Mersea Lions Club Fun Day at Waldegraves Leisure Park, West Mersea. The Colne Estuary vehicles provided free trips from the Leisure Park into town (MICA Centre). In between runs, they were displayed alongside AJN825, GR9007 and VNO859 from neighbouring preservation groups. BUF426C also provide a good vantage point for photographing the West Mersea carnival procession entering the Leisure Park. Unfortunately UVX7S needed repairs to the clutch linkage and was unable to attend.
On 11th August, B115LDX attended the Brislington Rally at Bristol where it received plenty of attention from enthusiasts. This Alexander-bodied Bristol/Leyland B21 appears to be a unique vehicle in the UK. As with many rallies this year, numbers were down on the previous year, but there was plenty of enthusiasm from everyone who made the trip.
On Saturday 10th August, the ever-popular open-top BUF426C led the Clacton Carnival parade.
On 4th August, JJT437N went to Gosport Rally. This was reportedly an excellent rally and we plan to add it to our rally list next year. Unfortunately, JJT437N was found to have problems with the head gasket upon returning from the rally and will need attention before its next outing.
JULY 2013
On 28th July, JJT437N made an early start to the Worthing Seafront Bus Rally where it was displayed in glorious sunshine. Meanwhile, RGV690W attended the rally at Cambridge Museum of Technology where the old pumping station was the added attraction.
On 21st July, KRU848W made the trip to Alton Bus Rally & Running Day at Anstey Park, Alton, Hampshire. This event had been rained off in 2012 and was rainy in 2011, so this year's hot sunny spell was most welcome. Meanwhile UVX7S, JHJ150V and KOO790V stayed closer to home at the Colne Valley Railway Bus & Commercial Vehicle Rally. Unfortunately the turnout was lower than in previous years, with families heading for the seaside instead.
On 14th July, VR JJT437N made the journey to Peterborough Bus & Commercial Vehicle Rally at Sacrewell Farm (A47/A1 junction) while open-top PD3 BUF426C stayed closer to home, attending the Haverhill Historic Transport Rally & Road Run. At the end of the latter event, Haverhill's town mayor Cllr Roger André rode around Haverhill on the PD3 at the head of a procession of classic vehicles. Somehow we missed our way and ended up in a short-stay car park and had to get directions from the Mayor to get back on route! A good day was had by both vehicles at their respective venues.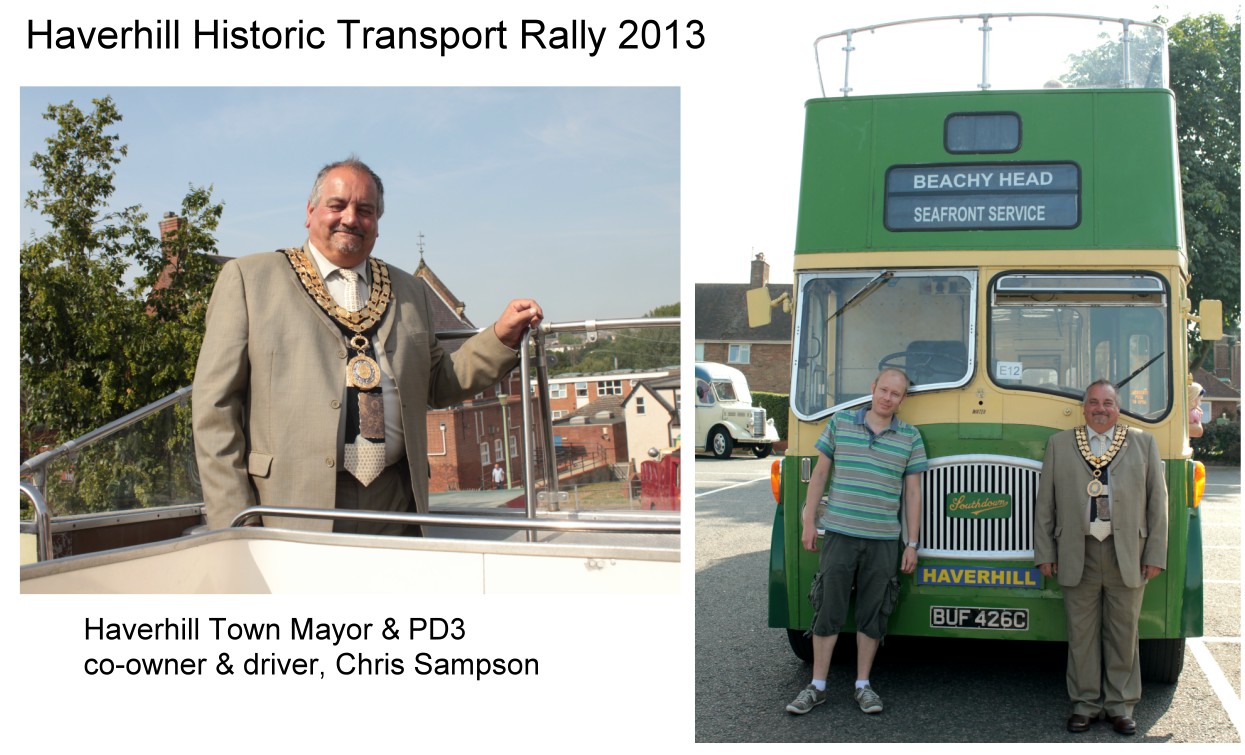 July 2nd saw CEPB vehicles at 3 different events. FWC439H and JHJ150V were on display at North Weald Rally, North Weald airfield, near Epping. KOO790V and JJT437N went to the North Norfolk Railway Vintage Transport Day (Holt Station) where they also gave bus rides between Holt and Sheringham . BUF426C attended the Walton Classic Car Show at Bath House Meadow and gave open-top bus rides between Walton and Frinton.
JUNE 2013
On 26th June, we said farewell to red London Routemaster CUV306C previously owned by Mark Lawford. She has been acquired by a new owner in Hitchin.
On 23rd June, B115LDX made the trip to the East Anglia Transport Museum's "Hop On A Bus Day" event at Carlton Colville where she did some round trips in the local area. Despite the intermittent rain, this was a great day with a variety of vehicles attending (including our friends with AJN825 "The Essex Lady") and an opportunity to ride trams and trolleybuses as well as motor-buses.
On 16th June, JJT437N went all the way to Weymouth for the 7th Weymouth Vintage Bus Running Day operating from the eastern end of the Sea Front.
On 9th June, KOO790V and JJT437N attended the Aldham Old Time Rally at Chalkney Meadows, White Colne (nr Colchester). This rally also attracts traction/stationary engines, tractors & farm machinery, military & commercial vehicles, vintage & classic cars & motorbikes.
2nd June: 5th Clacton Bus Rally at Clacton Shopping Village. This was a very well-attended event with a bumper turnout of vehicles on a gloriously warm and sunny day. A list of entries can be found at 5th Clacton Bus Rally and a rally newsletter is now online.
MAY 2013
CEPB had been asked to run a shuttle service between the Hythe, Sheepen Road car park and Colchester Castle for The Town-to-Port Festival on 25th May. A timetable and route map were submitted and drivers and vehicles arranged, so it was disappointing for WAH587S, RGV690W and UVX7S to arrive on site and discover that the organisers (Colchester Borough Council) claimed to have no knowledge of the shuttle bus service and had not publicised it. By 1 o'clock the lack of publicity meant we'd picked no-one up from the Castle or Sheepen Road and that vehicle parking on the Hythe made it dangerous for buses to manoeuvre (the ramp nearest the Cadet Ship being effectively blocked so there was no through route). As responsible owners and drivers, we had no choice but to stop on safety grounds. We would be willing to support a future event, but only if a safe route through the site could be guaranteed. One amusing event was when one of our drivers friend pulled up at the Castle and asked two tourists "Is this Colchester Castle? Only I'm not from around here, I've come from Wales!"
On the 11th and 12th May, several of our vehicles ran free heritage bus services between Colchester and the East Anglian Railway Museum Historic Transport Extravaganza, and between Bures village station and the museum. At the end of each day, the vehicles drove in convoy around Colchester before returning to base. More details on out Colchester Cavalcade page.
On 5th May Richard Walker's Greenway WAH587S & Dan Trent's Duple Dominant RGV690W took part in the Ipswich to Felixstowe Historic Vehicles Run. Every year CEPB tries to send one or two of the vehicles over 30 years old to this event. This year, unlike 2012, the weather was gloriously sunny and the buses were displayed in the park near Ipswich Transport Museum before travelling in the historic vehicles convoy to Felixstowe seafront. Much of the route was lined with people waving at the vehicles. The buses performed impeccably and the good weather brought plenty of people to Felixstowe. Exhibitors and spectators alike enjoyed a warm, sunny day at the seaside.
On 19th May, UVX7S, FWC439H and JHJ150V attended Yeldham Transport Museum's spring open day. UVX7S and FWC439H both did free rides, including some mystery tours around the local area that were as mysterious to the non-local drivers as to the passengers! There was a good turnout of vehicles, stalls and visitors and a chance to catch up with friends at this neighbouring preservation group. Many thanks to the museum for hosting this fun event.
APRIL 2013
April 28th saw the Charity Bus Running Day, Route 351, Southend to London. David Edwards' Bristol RE (FWC 439H) attended. Pick-ups were made along the route at Chelmsford, Ingatestone, Brentwood and Romford. As with the 2012 event, buses were parked at the Pump House Museum in Walthamstow. During the day, several buses made the one hour round trip to Wood Green. This was less well-attended than last year and may be the last time it runs due to redevelopment of the parking area at the Museum.
On April 21st, Dan Trent and his team (Leon Wells & Josh Steward) took Bedford coach "Bessie" (RGV690W) and 26 passengers to the Brooklands Spring Gathering (still known to enthusiasts as "Cobham Rally"). RGV690W attracted plenty of attention as she hasn't previously attended this event. The rally was very well-attended by buses and coaches. There were the added attractions of aircraft, classic cars and classic motorbikes and parts of the historic Brooklands race track and aerodrome.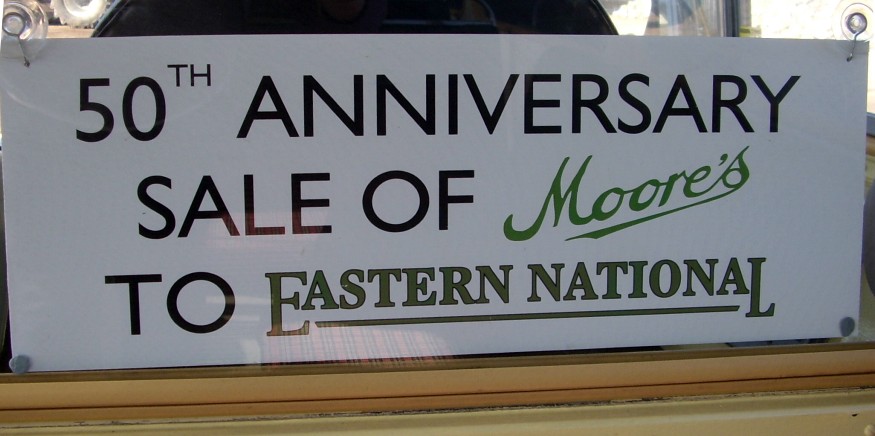 On April 13th, David Edwards took 1516 (Bristol RE FWC 439H) on an Omnibus Society run with a preserved Moore's Guy Arab (373 WPU) to mark the 50th anniversary of Eastern National taking over Moore's. The buses will be passing through Chelmsford (Coval Lane) around 10 a.m.
No CEPB vehicles attended Detling this year due to serviceability/availability issues. Some CEPB members went to Detling on the Talisman entry and report that it was good event. Last year, two CEPB vehicles attended and hopefully we'll send a vehicle next year.
Bristol LH UVX7S is operational again with new batteries. This means she can be moved into the yard for some cosmetic work.
Leyland Olympian C415HJN is awaiting engine repairs as she is currently running on 5 cylinders and leaking coolant.
Michael Cole, Sarah Cole and Bradley Brooks (Cole Traction) are currently working on readying JJT437N for the 2013 rally season.
PD3 BUF426C's engine has been dismantled by Chris Sampson and Bob Sharpe who are fixing problems with the head gasket.
The Suffolk Bus Preservation Group (Dan Trent, Leon Wells and Richard Walker) joined other local preservationists to check out FEV115Y, but it needs a lot of work and money spent on it.
FEB 2013, VEHICLE NEWS
Another Suffolk vehicle is to join our collection; J160LPV, a former Ipswich Buses Dennis Lance/East Lancs (notable for being Lance chassis number 2), for preservation. The vehicle is being stored locally at present; more information to follow.
One of our members is seeking people to assist with a local preservation project - former Hedingham Omnibuses BEV105X, needs saving from the scrap-man (details on our Facebook page).
JAN 1ST 2013, KING ALFRED BUSES RUNNING DAY, WINCHESTER
Dan Trent took his Bedford coach "Bessie" (RGV690W), with several CEPB members on board, to this running day in Winchester and ran a few trips around Winchester. It was a long journey from Colchester, but an enjoyable day out seeing different heritage vehicles. This year, our normal New Year's Day event (Southend Heritage Bus Services) didn't run as the organisers felt the volunteers needed a rest. This gave the group a chance to attend this popular Winchester New Year event.
DECEMBER 2012 - SERVICE SEASON!
Season's Greetings from CEPB! Winter is upon us and there are currently no rallies, which means it is maintenance season for most of us. Some of our vehicles might be out and about at fetes or on pleasure drives for family and friends while others are SORNed for the winter period. CEPB members and friends are currently working on a number of projects including:
SPK203M needed attention to the door closure mechanism (previously clutch-operated, but now button operated), leaking fuel system and clutch
BUF426C was prone to overheating and needs work on the head gasket and the engine has been partially stripped at the time of this update
SDX35R needs a lot of TLC including bodywork (panels and cleaning), fitting the missing windows and fitting remaining seats/doing upholstery. That should make her roadworthy, although the cab needs a full refurb
WAH587S is awaiting MoT and a possible repaint
UVX7S is awaiting MoT, but the slave cylinder of the hydraulic throttle needs to be reconditioned in order to get her moving again!
JJT437N is undergoing a full interior refurb
FWC439H needs a new nearside exterior wooden 'skirting' rail.
UFM53F required full service and MoT
RGV690W has some starting problems, possibly knurled teeth on the ring gear (not insurmountable at present); she is also getting headrest covers made
JHJ150V needs some rusted panels replaced or welded and exterior paintwork repaired
C415HJN needs a complete engine rebuild during 2013, in addition to recent work required in order to pass MoT
It's going to be a very busy, if cold, winter at the CEPB barn!
IPSWICH TRANSPORT MUSEUM "COME & RIDE ON OUR BUSES" (10th Nov 2012)
ITM announced a "Come and Ride on our Buses" event at short notice, combining this event (normally held on the first Sunday in October) with their "Winter Warmer" on Saturday 10th November. This meant we weren't able to send the usual number of vehicles as many are SORNed at the end of October and several others were awaiting MoT. CEPB were represented by Michael Cole with his Hants & Dorset VR JJT437N. This ran a number of trips out of the museum and around Ipswich.
LVVS RALLY, LINCOLN TRANSPORT MUSEUM (4th November 2012)
Paul Ashman's Crosville RE UFM53F attended the Lincolnshire Vintage Vehicle Society Rallyat the Lincoln Transport Museum rally. UFM53F ran on 2 shuttle services and a Mystery Tour during the day. There were plenty of buses on display ranging from some very venerable single decks to some modern vehicles from local operators. As well as buses there were displays of classic cars, motorbikes and light commercials; some of the classic cars were giving short rides and the drivers were attired in period costume. There were several stalls inside the museum and a chance to see several buses, cars and motorbikes that are currently undergoing restoration. Full details of the museum's collection are on its website, but there were some especially eyecatching buses from 1929.
TE8318 - 1929 14-seat Chevrolet LQ Coach "White Heather". American-designed coach that operated until the 1950's. It has either a Spicer body or a Northern Counties of Wigan body. This was running short trips from the classic cars display. KW474 - 1927 Leyland Lion PLSC1 (31 seat); VL1263 - 1929 Leyland Lion LT1 (32 seat); TF818 - 1930 Leyland Lion LT1 (30 seat); and WH1553 - 1929 Leyland Titan TD. Of special interest to enthusiasts from North Essex because WH1553 served with Hicks of Braintree, Essex (No 53). New to Bolton Corporation Tramways, WH1551 - WH1554 were sold to Hicks Bros of Braintree, Essex and operated out of Silver End. WH1553 went to Honeywood of Stanstead, Suffolk in 1947 and was saved from scrap in 1958 by a former Hicks employee. Meanwhile, WH1551 and WH1552 passed to Eastern National when they acquired Hicks in 1950.
Special thanks to the LVVS ladies for their excellent catering - it put many snack bars to shame.
2012 COLCHESTER BUS STATION FAREWELL CAVALCADE (30th Oct 2012)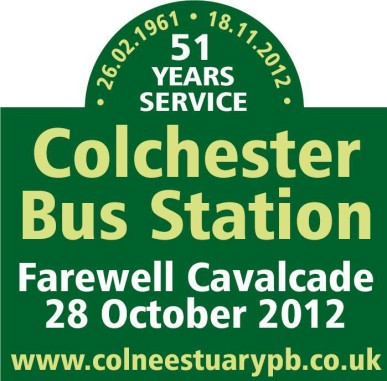 The Colchester Cavalcade returned several former Eastern National vehicles to Colchester Bus Station before it closes after 51 years of service. Eastern National liveried buses KOO790V, UVX7S, FWC439H, JHJ150V and CPU979G (Blackwater Preservation Group) were joined by GR9007 (Sunderland Corporation Crossley, from Wormingford), RVW90W (Talisman heritage vehicle), CUV306C (Mark Lawford's Routemaster) and RGV690W (Dan Trent's Bedford coach "Prince of the Road"). The vehicles travelled in convoy from Severall's Business Park through Colchester town centre before gathering for photos at the bus station. Several enthusiasts joined the buses for the ride round town and the photo-stop. The Cavalcade of classic buses turned plenty of heads as it went through Colchester - I'm sure members of the public wondered what on earth was happening!
After a photo-stop at the Bus Station, the cavalcade did a second circuit of the town centre before returning to the CEPB barn for an end-of-season barbecue for the drivers, crews and their families. The 2 Sarahs (Cole & Hartwell) had set out an indoor buffet. Maxine Walker had set out cakes and stoked the barbecues ready for the cavalcade's arrival at the barn. The pictures tell the story ...

The 2012 Cavalcade was arranged at very short notice by email and Facebook. A Cavalcade showing off 7 or 8 preserved buses might be a fun end-of-season outing in future years if there's enough interest. If so, this site, Facebook and Twitter will give more advance warning so that enthusiasts can photograph buses as they go along the High Street.
CANVEY TRANSPORT MUSEUM (14th Oct 2012)
Six buses from CEPB attended the Canvey Rally at Labworth Park, Canvey Island. It was the maiden rally outing for Dan Trent's "Prince of the Road" Bedford coach RGV690W, which did several shuttle trips between Labworth Park and the museum. Sarah Hartwell's Eastern National LH UVX7S and David Edwards' Eastern National RE FWC439H (driven by Lyndon Carter) also attended and did shuttle runs. There were 3 static exhibits: Leon Wells' purple Park-and-Ride Excel R186DDX, Luke Deal's Eastern National VR KOO790V and Adam Barham's Eastern National Leyland National JHJ150V (driven by his dad, Steve). Sadly CEPB's open top Southdown PD3 was unable to attend due to a faulty head gasket. This meant John Day's beautiful open-top Eastern National Bristol KSW (from our neighbours at Yeldham Transport Museum) was much in demand on shuttle runs.
Though there were fewer buses than in previous years (diesel is not getting any cheaper), there was a good selection of interesting vehicles including a couple of Welsh exhibits and some immaculate Bedford OBs. There were plenty of Eastern National (ENOC) buses in evidence, some wearing the liveries of companies that were absorbed into ENOC. As well as buses, there were preserved fire engines, military vehicles and light commercial vehicles, plus vintage cars displayed at the school adjacent to the transport museum and a variety of stalls inside the museum.
Despite gloomy forecasts, the weather stayed fine and bright and the CEPB contingent had an enjoyable day out. If you haven't been to this event before, it's a fun family day out and well worth pencilling it in your calendar for the 2nd Sunday of October 2013.
OCTOBER 2012 NEWS IN BRIEF
On 13th October, Dan Trent took a number of CEPB members and friends on RGV690W to Mulley's Motorways at Ixworth, near Bury St Edmunds in Suffolk where we met up with a group of Leyland Olympian Enthusiasts for a day of riding Mulley's fleet of ex-Hong Kong Mega Deckers. Dan drove four different Olympians from Ixworth to Stowmarket, Bury-St-Edmunds, Great Barton, Honington and Ely with photostops along the way.
David Edwards took Paul Ashman's Crosville RE UFM53F to the Isle-of-Wight Rally on 13th/14th October.
Michael Cole took his Wilts & Dorset VR KRU848W to Warminster on 6th/7th October and to the Isle of Wight on 13th/14th October.
Group members decided to mark the nominal "end of rally season" on 28th October with a trip to the soon-to-be-redeveloped Colchester Bus Station in the morning and a barbecue for families and friends in the afternoon. Without the understanding of families, and the help of friends, our members' buses would not be on the road.
EAST ANGLIAN RAILWAY MUSEUM (23rd Sept 2012)
On Sunday 23rd Sept, EARM hosted a small display of buses associated with Eastern National and its predecessors. Michael Cole took FWC439H on behalf of David Edwards; Richard Walker drove Sarah Hartwell's UVX7S and Steve Barham (Adam's dad) took JHJ150V. Luke Deal's KOO790V was unfortunately not available that day. There was also a classic car display and steam train rides. Despite the weather turning very wet in the afternoon, there were quite a few visitors and a good time was had by all!
2012 SHOWBUS, DUXFORD (16th September)
Showbus saw a good turnout from the CEPB with Michael Cole's KRU848W and JJT437N both making the trip, along with Luke Deal in KOO790V, Daniel Trent & Leon Wells in R186DDX, Richard Walker with WAH587S, Sarah Hartwell in UVX7S, Mark Lawford with CUV306C, and Chris Sampson took Adam Barham's JHJ150V. Michael's recently re-liveried Wilts & Dorset VR, KRU848W, won the "Best bus from the 1980s" category - a just reward for all the hard work put in over the summer.
Despite forecasts of showers, the weather remained sunny and dry. Dan hosted a picnic for CEPB and friends in R186DDX. These rallies are also social events, and owners, drivers and passengers caught up with friends they see only a few times each year.
2012 HERITAGE RUNNING DAY, COLCHESTER (8th September)
Under the new management of Richard Walker, with his wife Maxine at the Rally Control table, the 2012 Running Day ran smoothly.  With a swiftly-arranged route and timetables, we ran a free circular service every 20 minutes linking King Edward Quay at The Hythe (lightship), St Leonard's Church, Castle Gates, Bourne Mill and back to The Hythe.  Attending buses were:
Guest vehicle GR9007 (Sunderland Crossley) joined Colne Estuary Preserved Buses vehicles UVX7S (Eastern National Bristol LH), KRU848W (Wilts & Dorset Bristol VR), FWC439H (Eastern National RE), JHJ150V (Eastern National LN), WAH587S (Carters Greenway), BUF426C (Southdown open top PD3) to operate services, with a couple of others which were unavailable on the day.  Mark Lawford's immaculate Routemaster CUV306C was not on service, but drove around town to publicise the event and provide photographic opportunities.
This year, the Rally Control area had an information table offering souvenirs.   All contributions into our donations boxes will go towards the continued upkeep of the vehicles.  The day had a pleasantly stress-free atmosphere, was popular with the public, and several preservationists have already offered their buses or services for the 2013 event. 
Many thanks to all who allowed the use of their buses, to the drivers, crews and control staff who volunteered their services at the event, to Clive Stacey, Education Officer at Colchester and Ipswich Museum Service for inviting us to run this event and to the Sea Cadets Lightship for providing "facilities" for our volunteers.
Due to popular request, we hope to add an "alighting only" stop at the Town Hall in 2013. Passengers wanting to be dropped off at the Town Hall would need to let the driver or conductor know when boarding the bus.
BRAINTREE RUNNING DAY - SUNDAY 26th AUGUST 2012
In 2012 fellow bus preservationist Tony Langley sadly passed away and with this in mind, CEPB joined forces with several other preservationists to raise funds for Cancer Research UK. Braintree Running Day, operated from Freeport and in spite of poor publicity raised £700 for Cancer Research. This sum was doubled by main sponsor Adam Barham/Panther Travel. See Braintree Running Day for an illustrated review of the day.
2013 NEW YEAR RUNNING DAY
In the last 3 years, Stephensons have organised a New Year Heritage Bus Running Day out of Southend-on-Sea Travel Centre. This served routes around the Southend area on a day that First don't run local bus services. As well as serving the public during the New Year's Day Sales, feeder services from other towns attracted enthusiasts into Southend to see and ride heritage vehicles. Operators and crews for this event were all volunteers and the proceeds from fares went to charity.
Stephensons have announced that this event won't run in 2013. Because the same dedicated volunteers gave up their time for this event in previous years, it was felt that they needed a year off. It was also becoming difficult to find different heritage buses to attract enthusiasts.
2012 NEWS IN BRIEF
Leyland National YEV307S has been sold by owner Adam Barham and looks set to remain in Essex. Rumours that it was being scrapped were entirely untrue. Leyland Olympian D150FYM has been sold on by owners Leon Wells and Dan Trent..
For various reasons, Plymouth Corporation open-top Leyland Atlantean STK129T (GJZ9575), Ipswich Buses Atlantean RDX19R and First Eastern Counties Volvo B6 M586ANG were all scrapped by their owners.
March 2012: SPK203M was at the Detling Rally in Kent.
May 2012: Gt Yeldham Transport Museum Rally was attended by UVX7S and JHJ150V. BUF426C unfortunately suffered mechanical failure and was unable to attend as hoped. JHJ150V, UVX7S and UFM53F took part in the Ipswich to Felixstowe run. East Anglian Railway Museum (Chappel) held their first Historic Transport Rally which was attended by KOO790V, JJT437N and UVX7S. SPK203M went to the AEC Centenary event at Newark.
June 2012: Our own Clacton Bus Rally (June 2012) saw a good turnout of buses from CEPB, some of which ran bus rides around Clacton. Chris Sampson took Southdown Leopard UUF335J to the Southdown event at Horsham on behalf of owners John Ward & John Roberts. Several of our ECW-bodied vehicles attended the East Anglian Transport Museum (Carlton Colville, Lowestoft) ECW event.
July 2012: There was also a good turnout from CEPB at the North Weald Rally. BUF426C, C415HJN, UVX7S and JHJ150V all attended the Colne Valley Railway Rally.
August 2012: UFM53F was seen at Worthing Seafront Rally. Bristol RE FWC439H and Bristol LH UVX7S both went to Brislington Rally in Bristol. JHJ150V and a freshly reliveried KRU848W went to the Attleborough Rally held at Old Buckenham Airport. KOO790V went to the Orsett Heavy Horse Show.
September 2012: KRU848W went to Romney, Hythe & Dymchurch Railway
CEPB buses have supported events at North Norfolk Railway, Sheringham, throughout the year.
4th CLACTON BUS RALLY (3rd June 2012)
CEPB's 4th Clacton Bus Rally attracted around 45 vehicles despite very poor weather and the clash with several Diamond Jubilee attractions that weekend. All except 3 of the CEPB vehicles attended the event; those that were unable to attend due to ongoing restoration work were Ipswich Atlantean, 35; Hants & Dorset VR, 3448; and London Transport RT3840.
3rd CLACTON BUS RALLY (June 2011)
Over 50 vehicles attended the 3rd Clacton Rally at Clacton Factory Outlet. This year the rally enjoyed good weather.
2011 NEWS IN BRIEF
Early in the year, Colne Estuary Preserved Buses was launched on Facebook.
Blackpool Atlantean GHG343W and open-top Atlantean, STK129T/GJZ9575 were both scrapped. Leon Wells' Optare Metrorider R228SCH left the CEPB collection for further use with a PSV operator. Leon acquired Ipswich Buses Leyland Atlantean RDX19R and Ipswich Buses/Norfolk Green Optare Excel R186DDX both of which joined the collection. AEC Routemaster, CUV306C, RML2306 also joined the CEPB collection.
2 Leyland Nationals belonging to Adam Barham arrived for preservation/storage: JHJ150V (Eastern National livery, "Ruby") and YEV307S (Panther Travel livery, "Katherine"). YEV307S was later launched in a "what if" Westcliff-on-Sea red and cream livery.
David Edwards' FWC439H returned to B53F configuration for the first time in 30 years with the reinstating of front bench seats and the rear row of seats. UVX7S was transferred from Fred Lawrance to Sarah Hartwell and remains part of the CEPB collection.
As well as attending bus rallies and historic vehicle events, owners also take their buses to local carnivals, fetes and other local events. Luke Deal's green-and-yellow Eastern National VR, KOO790V, has been a regular at several country shows in the mid-Essex area.
Fred Lawrance's Southdown-liveried open top PD3 BUF426C has taken part in Colchester Carnival and also provides outings for parishioners of St Mary's Church where her owner is a church warden. Fred's coach, SPK203M, sometimes travels in convoy on the outings due to their popularity. Look out for this open top bus at various seafront destination during the summers.
In December 2011 CEPB provided several festively decorated buses for a family day at Manheim Auctions (cars auction room) in Frating, just outside Colchester. YEV307S (Adam Barham's Leyland National on loan to a CEPB member) was festively decorated as Santa's Grotto while the drivers and crews wore seasonal costumes. Michael Cole's C415HJN offered scenic tours.
CEPB also provided a static display of buses at Clacton Aerodrome's Open Day in August 2011 (the Sunday after the Clacton airshow). UVX7S, BUF426C and YEV307S all attended.
2010 NEWS IN BRIEF
The Colne Estuary Flickr Group was set up for photos of group vehicles past and present.
Bedford Coach, RWC637K left the group in December 2010. Several vehicles joined CEPB during 2010:
KOO790V - Ex First Heritage Fleet; the last Bristol VR with Eastern National
BUF426C - Leyland PD3 Queen Mary ex Southdown (Feb 2010)
M586ANG - Volvo B6 ex Eastern Counties (June 2010)
C415HJN - Leyland Olympian ex First/Eastern National (August 2010)
KRU848W - Bristol VR ex Wilts & Dorset (August 2010)
STK129T/GJZ9575 - Leyland Atlantean ex Plymouth/North Birmingham Busways, but was off the road due to electrical faults (Oct 2010)
D101NDW was readied for professional local restoration and GHG343W was taken off the road following a breakdown en route to the North Weald Rally in July.
2009 NEWS IN BRIEF
The CEPB collection comprised the following in September 2009:
UFM53F - having new window rubbers fitted.
FWC439H – operational
UUF335J – operational
RWC637K - requires major restoration
UVX7S – operational
GHG343W – awaiting repairs
D101NDW - awaiting gearbox repairs