OWNER FOCUS
RICHARD WALKER (WAH587S)
The first memories I can remember of travelling on buses were with my grandparents when very young – especially near Crewe in Cheshire, in the heart of Crosville operating territory, where I particularly remember lots and lots of Bristol REs, Lodekka half-cabs, some early Leyland Nationals and their Seddon RUs.
The early Crosville Leyland Nationals I can recall which, when compared to the Gardner-engine and gently modulating noises of the RE, instead the fast-revving and noisy Leyland 500-series engines in 1973 suddenly sounded very odd, and the new interiors seemed huge.
On school holidays in Suffolk, I recall travelling north of Ipswich on Bickers buses with all sorts of unusual vehicles. I distinctly recall being dropped off at Henley Cross Keys by Bickers buses on services out of Ipswich.
A move brought me from Cheshire to Suffolk in 1978, where all sorts of Independent bus companies operated. I can remember going to Colchester from Stoke-by-Nayland with Norfolks of Nayland – halfcab buses with sliding side door. iii Norfolks also operated the Saturday route into Colchester from Polstead. Norfolks provided a coach for this – normally an AEC or Volvo, which was entirely unsuited to the narrow lanes and tight junctions. I was struck with awe at the skill of drivers, especially at a particularly tight turn at a humped-back bridge. Also, wherever there was a sign for Colchester, the bus seemed to go the other way – and on the return journey, would stop at people's gates to let them off, such was the service provided.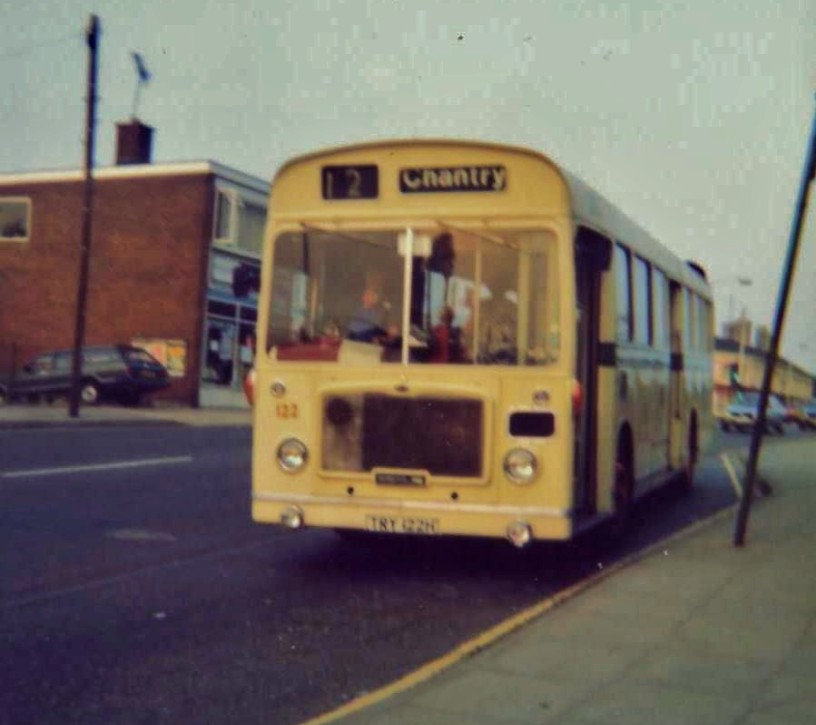 My first ever bus photo - an Ipswich Borough Transport Bristol RE; still in the livery of former owner Leicester City Transport, just with the band repainted green. Both fleets at the time favoured dual-door buses. Ipswich had to use single-deckers on this route due to the low bridge at Ancaster Road. This must sparked started some sort of association with Gardner-engined single deckers...

At school in Suffolk, from primary school, Norfolks provided a bus for swimming classes in nearby market town of Hadleigh. Again, all sorts of interesting buses turned up, different each time. We used to cram as many as possible onto the back seat of the bus.... 13 children was the record.iv

Later Norfolks updated to a new generation of Fleetline when former West Midlands "Jumbo Fleetline" vehicles were acquired. It's about this time that I started noticing the differences between buses, where they had come from, and the modifications that later operators had made, and which parts of the vehicles' livery was left intact.

At middle school I travelled by Rules coaches of Boxford, Suffolk – another enthusiastic operator of AEC buses and coaches – and what a collection they had! Bits and pieces from other buses, including seats I noticed were swapped around. Other buses were made up entirely from bits of others.v I also noticed that some of these buses and coaches were of some considerable age, but somehow kept going and going.

On school holidays back in Cheshire I watched with interest as various Crosville vehicles were updated and re-engineered. Crosville had an enormous operating area and boasted a central works in Chester where various adaptations to their vehicles were carried out, including a large re-engineering project to convert the engines on many of their Leyland National single deckers – the result providing something of a raw exhaust note, which was unforgettable – it spiked, and thereafter forged, my interest in Gardner-engined buses.

I watched the local bus fleets with interest, and started to read "Buses" magazine in WH Smiths on a Saturday morning. This was a mine of information and told me what local buses had come from where, and which other buses had departed for pastures new – or simply departed.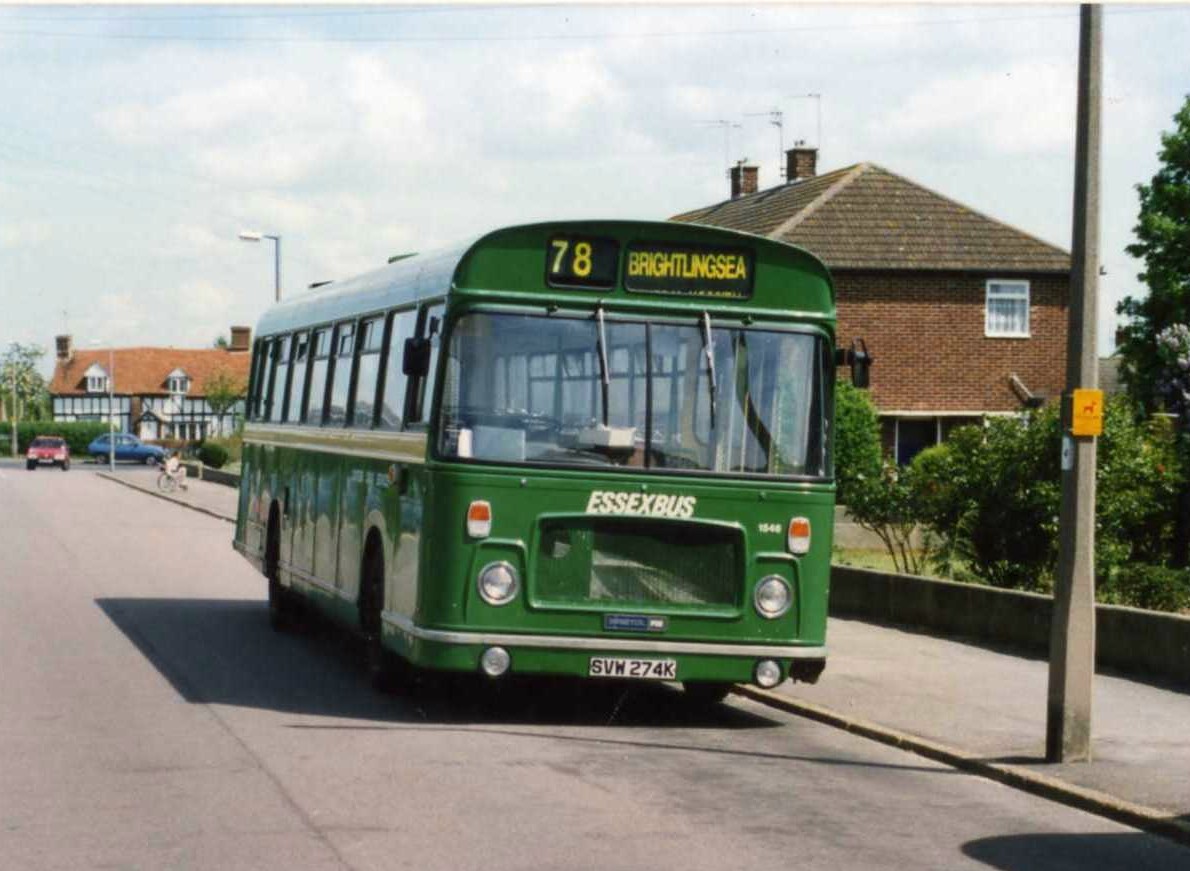 The first bus I ever drove in service, SVW274K. This is a Bristol RE which had been new to Eastern National. Here it is with Carters, my part-time employer.

I had been given one of those small point-and-shoot cameras – and was able to capture (albeit fuzzily, and not too accurately) these machines on film, and in action. Then to upper school – a couple of years at first travelling on Eastern Counties and then later on Beestons coaches – and there was another interesting fleet with Leyland buses and coaches of all sorts, and touring coaches were sent on our route before going off on days out. By now I was starting to look forward to getting my bus licence...

On leaving school, I found myself a job with buses at Suffolk County Council, doing roadside bus timetable publicity, giving me an opportunity to capture some interesting buses photographically. Also at this time Carters Coach Services was the operator of the local country bus service into Colchester from where I lived at Polstead.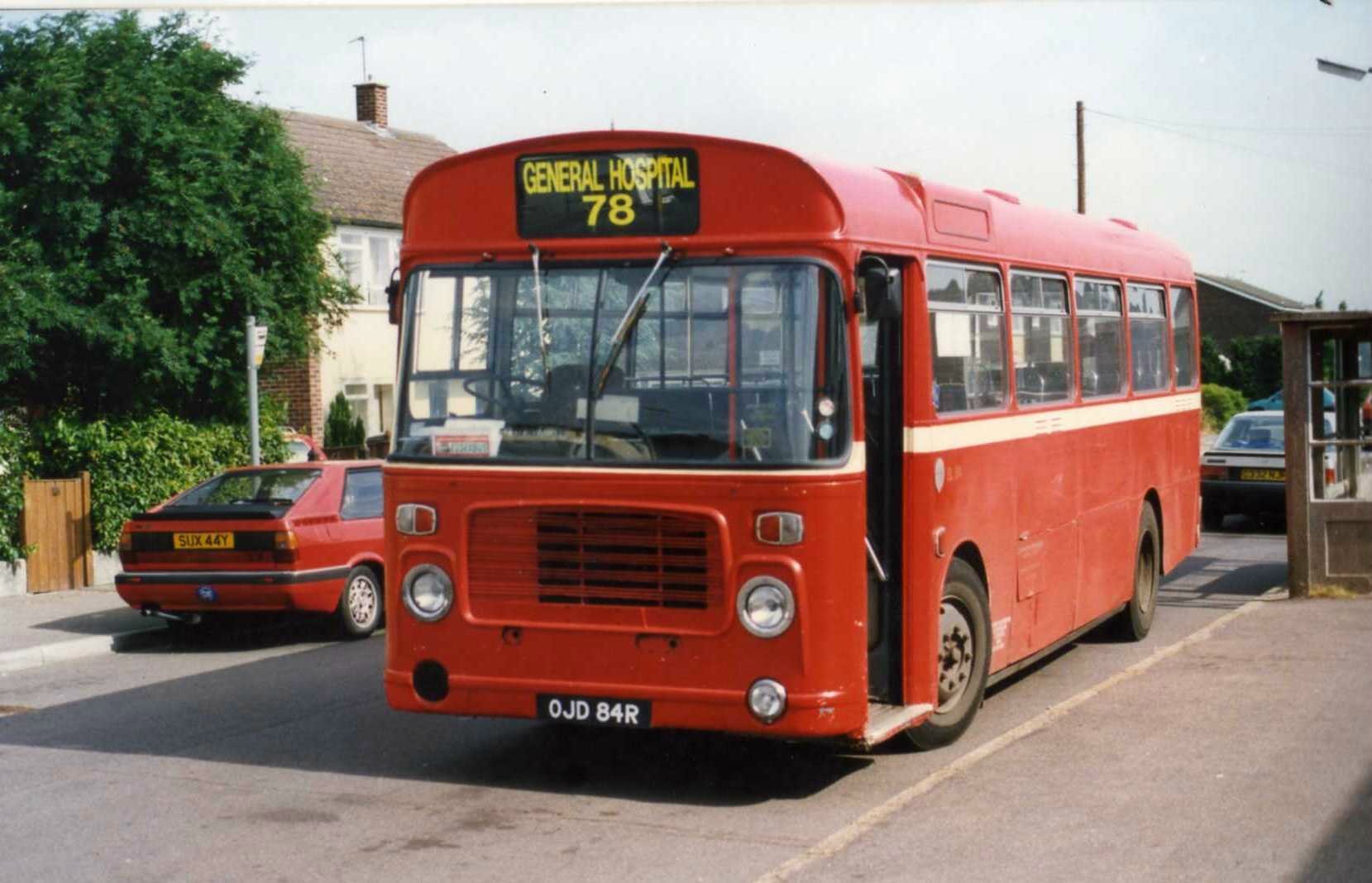 OJD84R - a Bristol LH. A regular bus for me on Saturdays and Sundays to Colchester and Brightlingsea. Quite an unusual bus too.
It was aboard this bus that I met the future Mrs Walker in the ceremonial distinguished and surroundings of the former Colchester Bus Station!

Carters is another operator of interesting buses – and having been on the bus several times, and getting to know the proprietor – I was offered some summer work if I got my bus licence... without too much delay I had booked a couple of weeks intensive training course with RTT, and the coach I passed my test in is being of note as the former Ipswich Town FC coach.

Summer-time and part-time bus driving filled my weekends and even some mornings on schools journeys before "the day job" work, plus odd days off to help out here and there with Carters.

The normal Saturday bus was OJD84R, a former London Transport Bristol LH (the designation being "Lightweight, horizontal", referring to the type of usage and the position of the engine under the floor).

This work would even lead to me meeting the person who was to become my wife. Mrs. Carter was a mutual friend, and kindly introduced us.

And so when an opportunity arose to buy one of Rules' former vehicles, DAL771Ji, which I thought I'd never see again after the Rules operation closed down a few years earlier, I jumped at the chance.

The coach had been bought for conversion into a travelling caravan, but fortunately the conversion was never started. Such are the joys of bus preservation: The vehicle was accessible when I first visited, but having purchased DAL as a rolling project, we found that we had to move a collapsed barn to get DAL out on our next visit! After some minor wiring repairs, she was roadworthy. After some more fairly minor work, and a set of round wheels (the original split-rim front wheels were so mis-aligned that this set up considerable shake in the steering at around 45mph due to the poor geometry!) I managed to get an MoT class 5 on DAL and rallied the bus in Rules colours for a couple of years.

I later also jointly-owned a second vehicle, DKE350Yii, although this one had to move on, through lack of facilities to carry out the necessary work.

In the meantime, DAL had needed a fair amount of cosmetic work before being ready to take to rallies. I found a set of red seats to match the original specification in DAL as closely as possible and changed these over.

The coach had been new to Barton, a large operator in the Nottingham/Derby area. DAL had received a number of modifications over the years, and was showing signs of needing further attention. Although DAL easily gained another MoT, the coach really needed more facilities and time than I had to spend in order to restore it. DAL was sold to the Notts and Derby Heritage Preservation Group and, I am happy to say, and has been fully restored.

The part-time driving had encompassed a number of companies – Gemini Travel with its minibus/coaches; Bucklands with its Ford coaches, and Carters with an array of Bristol and Leyland buses.

I also started to drive for Ipswich Buses on the Park & Ride again part-time and mostly on Saturdays and on football days, for pop concerts and in the run-up to Christmas.

After a couple of years helping out here-and-there with friends' preserved buses, including trips to scrap-yards to drag out and sometimes resurrect vehicles, I was invited to take a part-share in another vehicle. I jumped at the chance to acquire a part-share in SPK203M when it came along, and later the offer of purchasing WAH587S, a former Eastern Counties vehicle from Carters. Both of these latter two are part of the Colne Estuary Preserved Buses collection, and you can find more about them on this site.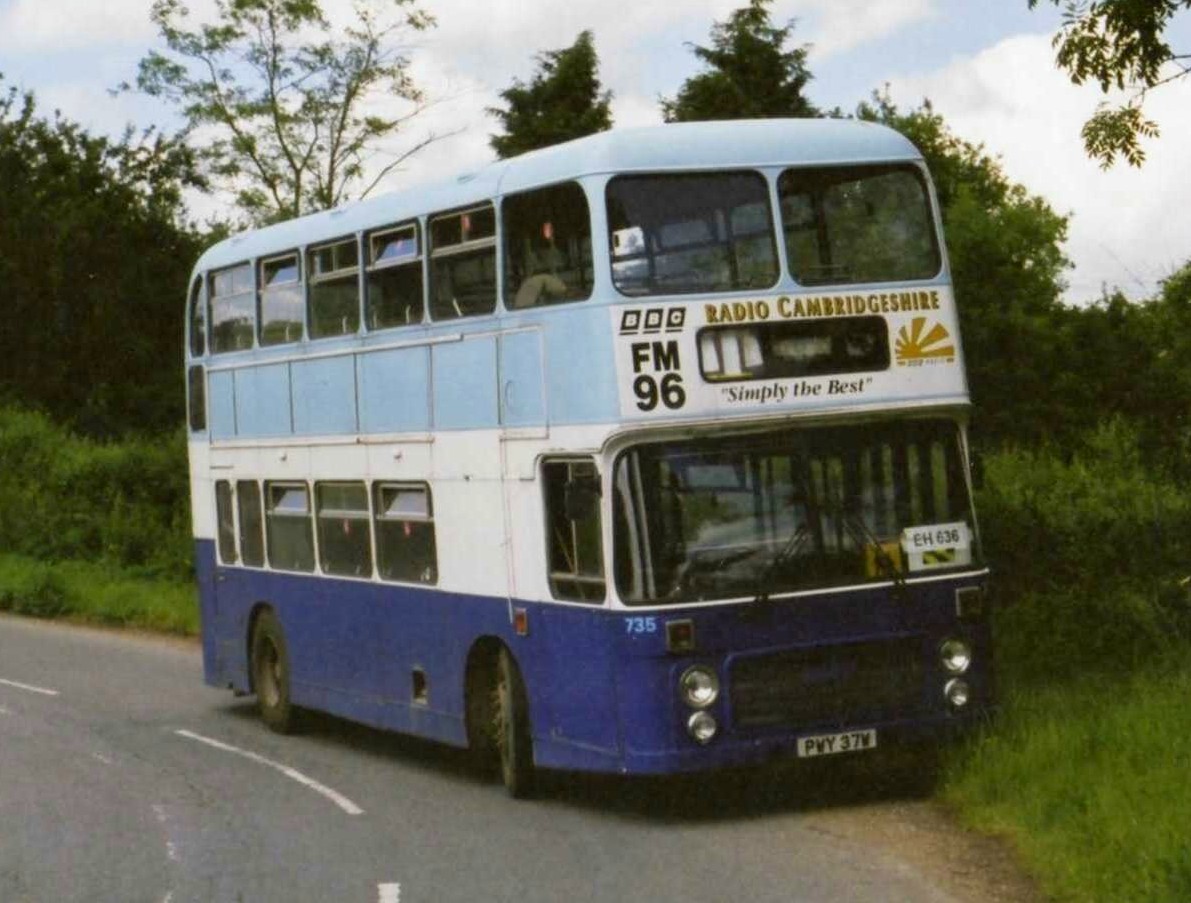 Driving with Carters, PWY37W was my regular bus for schools services on route 636 - an ex-Cambus Bristol VRT

What's it like to own and care for a large piece of social history? Well, that's another story!
[i] These buses were probably SBN767, ex-Nottingham Fleetlines (like 301XRA, 64RTO/69RTO, DEB484C) and AEC Reliances (such as BPV300T, JDF57N and YCE675L).
[ii] Early Southdown service bus Leopard 280AUF, Bedford/Willowbrook XCF999K (which seemed to have acres of glass). Duple-Vega and Bella Vega said the shiny chrome badges on some of the others – which I assume must have been MUU553 and JUV537D
[ii] JGE987Nwas one such candidate, having comprised parts from two coaches after a bit of a contretemps – it also had a new front, Duple rather than Plaxton rear lights, and a set of E-type seats.
[ii] DAL771J is unusual in being one of the earliest "bus grant" vehicles with express doors. It is an AEC Reliance/Plaxton Panorama Elite Express.
[ii] DKE350Y was a Duple Dominant IV-bodied 12m Leyland Leopard. It suffered chassis deterioration
DAN TRENT (RGV690W & B115LDX)
When mentioning my hobby to friends and family they always comment, "What a strange hobby, you should be into football, cars, etc." and my response is, "Why would I want to watch middle-aged men kicking a bag of air around a field?". Fair enough, it is some peoples' hobby, but after explaining that theory they don't find it as strange!
But it does make me think, "How did you get into buses Daniel?". When I was a young boy I was mainly into trains, Thomas the Tank engine I used to watch over and over! Always nagging my mother and grandparents to take me to the local railways (Bressingham, Diss, the most).
But the first bus I really recall riding on was a RexWay coach, a Bedford/Plaxton Supreme which had been bought by Galloway of Mendlesham. It used to take us to swimming every Tuesday, with the same lady driving every week, who still works for the company! We always have a good old chinwag!
I remember one day after swimming, running around the playground pretending I was driving the Bedford!! But then towards the end of primary school my parents divorced so we moved from Bacton Primary to Combs Middle. That was when I got into buses more than I did the trains. John's Tours started taking us swimming, we moved form a Bedford to a Scania/Plaxton Paramount being driven by John himself.
But it was really in Year 7 I got into buses more; John's Tours took us to Rollerworld in Colchester on a Scania/Van Hool (A860WAV) with John driving as usual, but it was my Art Teacher who introduced us. I remember John saying to me, "the most important thing on my keys is the bottle opener!".
Over the next two years I remember seeing the bus drivers every day after school. Then our family moved to Great Finborough just as we were starting High School where Squirrells Coaches took us to school. I got talking to one of the drivers again and one afternoon I asked who did the weekend cleaning? He said no-one so I asked whether I could do it, he agreed and I started that weekend and carried on for the next five years!
Over those five years I still saw John and the other drivers and john talked me into my first rally – Showbus – I remember going around with him and his family and had a great time and went again for the next four years.
I always wanted my driving license when I reached the right age and I did this with Squirrells. My first test was in a Dennis Javelin (N945EWG) – I failed : I had hit a sign with a mirror. After the test I remembered the old saying, "you've got to laugh, otherwise you'll cry!" which is very true. I was told that at the care home where I worked as a carer for a year.
When I passed my test I drove the schools and at Christmas I started helping Mulleys on Bury Park & Ride and their local services. In July 2012 I left Squirrells and went to work for Mulleys full-time, but left again due to too much service work! Now I'm at 3C's Travel of whom I have known for quite a few years and I am much happier there.
The first bus I owned was a joint-ownership with Leon Wells, SDX35R, a Leyland Atlantean/Roe. Then D150FYM, a Leyland Olmpian/ECW. But I wanted to own a coach more than anything and so left the joint ownership and purchased "Bessie" Bedford, a YMT/Duple Dominant (RGV690W). More recently I have started a joint-ownership project with Richard Walker, B115LDX a Leyland/Bristol B21 which will hopefully be out and about soon!
That's all I can say really – I must thank my friends at the barn and outside for their support and help – especially Barry Smith for assistance with maintenance and Josh Steward for help with cleaning (and mop-boy!).
SARAH HARTWELL (UVX7S)
In the 1970s and 1980s, I loved travelling between my home in Braintree and school in Chelmsford on Eastern National Bristol FLFs, VRs and REs and at the age of 12, I decided I wanted to drive a bus. In fact, I wanted to own one of the FLFs that were just then being phased out (specifically AVX957B - HD 2789). Before that, I'd wanted to be a long-distance lorry driver so there was evidently already an attraction to large vehicles. Neither career option was on the cards for grammar school pupils; instead I went to university and into engineering.
Until secondary school, my only brushes with buses were school trips and occasional outings with my grandparents in the 1970s in the Eltham and Sidcup areas. One of those outings was a trip to the park on a Routemaster. A later one was possibly a Fleetline, certainly a one man op vehicle, on a shopping trip into Eltham mid 1970s. I also remember a family holiday in Bournemouth when I was 5 or 6 and we went on an open-top bus to Alum Chine. The primary school outings were with local Braintree companies such as Cooks and were mostly old double deckers, though the teachers wouldn't let us sit upstairs. Occasionally we were taken on longer trips by coach, such as the Essex Show. It wasn't till secondary school that I had any interest in the vehicles themselves.
Having never commuted alone before, I was very much dropped in at the deep end. My home stop was on Bocking Churchstreet and the 311/312 between Halstead and Braintree was almost on my doorstep. If I missed those, I sometimes had to get the 310 or 313 and walk home from the Four Releet on Broad Road. After a short while, I started using buses at weekends and school holidays to go into Braintree or visit friends in nearby towns. Not having a bike, buses represented freedom albeit at a small cost!
During weekdays, Bristol Lodekkas (FLFs) were the main workhorses during peak travel hours. I vividly recall their green vinyl seating and the sound of the Gardner engines. The chugging, crunching, rattling and creaking noises of the Lodekkas became the musical background to my schooldays, even more than the famous RE "whine". I also got to know some of the conductors and later on some of the drivers. When they found out I was interested in the buses, they told me all sorts of tales and quite a bit about each bus's idiosyncrasies. Once the FLFs were phased out and the VRs (with their prickly moquette seating)phased in, some of the drivers dropped me off outside my house, especially on dark evenings. If I knew the driver and it was a quiet section of the route (and there was no inspector) I would be allowed to perch on the luggage pen at the front to chat.
With so many schoolchildren heading back towards Braintree in the afternoon, the bus was often crowded.  The conductors (and drivers on one-man op vehicles) tried not to leave children behind, especially in winter when nights drew in quickly.  We ended up sitting 3-to-a-seat and cramming an extra person onto the long seats.  Even the surlier crews let us sit on the lower 2 or 3 stairs or on the luggage pen. This added to the sense of camaraderie - the bus was almost a family; something that fuelled my affection for this form of transport.
I learnt the fleet numbers of the Halstead-based Lodekkas used on the 310/1/2/3 routes and sometimes I hung around Chelmsford Bus Station, fascinated by the comings and goings of buses. Although I'd practically grown up using a Kodak Brownie camera, for some reason I wasn't into photography during my teens so I have no records of those days (something I now regret).
In 1981 my family moved to the other side of Chelmsford which meant the number 11 route from Chelmsford to Southend. This was mostly VRs. It was a shorter and busier journey so I never got to know any of the drivers in the way that I had on the friendlier, more rural Braintree buses. The rule about not speaking to the driver was more strictly enforced.
After school and college I moved back to Braintree, but worked in Chelmsford. This opportunity to renew old friendships on the 311/312 route was missed because my then partner was a car-owner and didn't like bus travel. Fast forward nearly 20 years through marriage and divorce to a blind date at a Transport Museum where I found their Bristol FLF exhibit more interesting than my date! The nostalgia rekindled my love of Bristol buses. The next couple of boyfriends were non-drivers which meant a lot more bus-travel when I visited their home towns (as I wasn't going to be their taxi service).
While recovering from illness in 2009 I was under doctor's orders to get out and about. So I bought a decent camera and starting doing photography again. When I learnt of an open-top running day on Southend seafront, it seemed a good opportunity to combine two interests – taking photos and riding old buses. Having shown a more than passing interest in the buses, I was kindly offered a lift back to Chelmsford in David Edwards' Eastern National RE (FWC439H). This was pure nostalgia! One bus rally led to another until I met Fred Lawrance (BUF426C) at a running day at Ipswich Transport Museum. Fred just happened to be selling an Eastern National single deck bus.
Buying a bus was a commitment not to be undertaken lightly. I drove Fred's Bristol LH (UVX7S) on private ground before saying "yes" at the start of 2011. Although I hadn't ridden LHs in my schooldays, she ticked a lot of boxes - Bristol bus; Eastern National; 1970s; thoroughly restored and a familiar manual gearbox. I made sure I was prepared for the cost and effort of maintenance and other running costs. It was a case of "if I don't do this now, I never will".
To keep costs sensible, I do as much of my own maintenance as feasible. Many CEPB bus-owners pool skills so I've pitched in to help with bodywork, upholstery, woodwork and cleaning in return for getting help from them. There's also an extended "family" of people who can offer advice and practical help. I'm having a lot of fun, learning a lot of new things and meeting a lot of interesting people since achieving my childhood ambition of being at the wheel of my very own bus.