This annual event is organised by Colne Estuary Preserved Buses and Colchester & Ipswich Museums to support the Heritage Open Weekend in September. On the Saturday of that weekend, heritage buses from several preservation groups in north Essex operate a circular service around town, serving King Edward Quay/Sea Cadets lightship, St Leonard's Church, Colchester Castle/Greyfriars and Bourne Mill. These venues and many others open free of charge on Heritage Weekend. The round trip takes approximately 1 hour depending on traffic. There are also 2 round trips to Mersea Barrow; these are dependent on the tide times and take 50 mins each way with a 30 minute layover on West Mersea. The event is sponsored by the Museums service.
The free to ride heritage buses used are a mix of single deck, double deck and open toppers, some of which are more than 50 years old. Because of their age, most are step entrance, but drivers and conductors are happy to help passengers board and alight. Please don't bring food or drink on the buses (unless given permission by the driver/owner).
There are bus route maps and timetables at the Hythe, Castle/Greyfriars, St Leonard's Church and Bourne Mill. The bus service operates at 30 minute intervals (20 minute intervals around midday) and round trip takes approximately 1 hour. There is a short rest at Colchester Castle.
2017 Heritage Day Bus Route and Timetable
The bus rides are free and the drivers, conductors, marshals etc are all volunteers. Most vehicles carry a donations box - any donations go towards the continued preservation of that vehicle. There is also a donation box at the information table (shared among participating vehicles/volunteers) and a selection of souvenir postcards etc for sale. Drivers and conductors are often helped by younger family members so don't be surprised if you see surprisingly young "trainee conductors" on board! If you ask nicely, most drivers will allow children to sit in the driver's seat for photos at King Edward, Quay.

Lightship, King Edward's Quay, The Hythe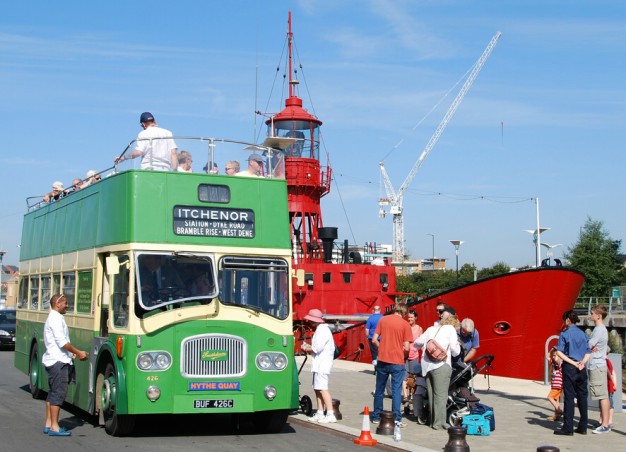 The former TS "Colne Light" is a steel navigational lightship built by Phillip & Son Ltd of Dartmouth in 1954. It is now home to the Colchester Sea Cadets and is permanently moored at King Edward Quay, the Hythe. The Hythe was the old port settlement outside Colchester town and is now part of a regeneration project. Some of the Sea Cadets provide guided tours of the lightship and about being a Sea Cadet. On board the lightship are displays of nautical knots where you can learn how to tie some of the simpler knots. Donations are welcome at the end of the tour. You can also pick up information about the Sea Cadets in general. Light refreshments and toilets are also available on the lightship. Please note that there are steep steps and ladders on the lightship (alternative accessible toilet facilities are available near the Castle, a short free bus ride away).
The bus stop is opposite the lightship, although you can also board buses at the layer and information area further along the quay.
St Leonard's Church, Hythe Hill
St Leonard's Church, near the Hythe was founded before the mid 12th Century when Hythe (or Heia) was a port settlement outside of Colchester. The current building dates from the 14th Century with later additions such as the nave's hammer-beam roof which dates from the early 16th Century. The screens and furnishings date from the 19th and 20th Centuries. It is now a disused Anglican church, preserved by the Churches Conservation Trust And listed by English Heritage as a Grade II listed building.
Colchester Castle, Cowdray Crescent (off High Street)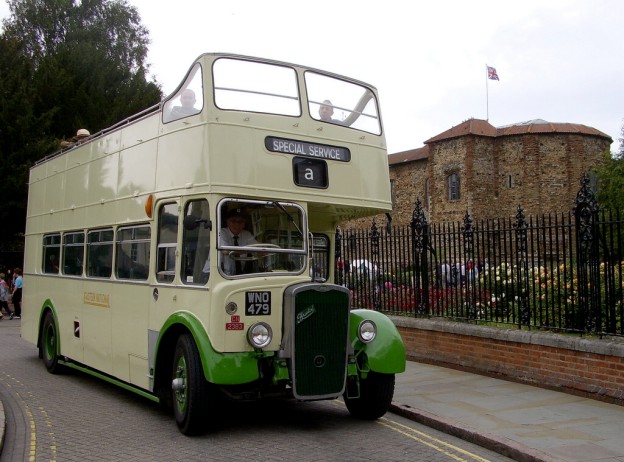 Colchester Castle keep is the largest keep in Britain, built in stages between 1069 and 1100. It was ordered by William the Conqueror and built on top of an earlier Roman temple (built between AD54-60) and some of the Roman foundations can be viewed on a castle tour. Roman building materials were recycled by the Normans when the castle was built. In 1215 it was captured by King John. After it ceased being a royal castle, it had various uses including a county prison. In 1645, Witchfinder General, Mathew Hopkins imprisoned and interrogated suspected witches here. In 1648, some Royalist leaders during the Second English Civil War were executed outside the castle. It was almost pulled down in 1683, but proved too well-constructed to be easily demolished. In the 1700s it became a private house and the surrounding park was laid out around it. In 1922 the castle and grounds were given to the town as a park and museum. Displays, tours and interactive exhibits, reflect these and other periods of the castle's long history.
The bus stop is normally in front of Castle Park gates, making this the most scenic location for photographs. If this is closed, buses will stop at Greyfriars just a few metres further along the road. There is a 5 minute scheduled break at the Castle. This is the closest stop for the historic Culver Street area in the centre of Colchester and for the Dutch Quarter. It is also convenient for the Hollytrees Museum and for the Natural History Museum in the former All Saints Church.
Bourne Mill, Bourne Road
This picturesque watermill with its working waterwheel was built as a fishing lodge in 1591 and used for banquets. It was converted into a mill in the 19th century. Bourne Mill is set in tranquil grounds next to a millpond and stream. The mill is adorned with Elizabethan stepped "Dutch'" gables. The waterwheel was originally used for milling flour. Some of the watermill machinery remains. It is now a National Trust property.
University
The route may be extended to the University on an hourly basis.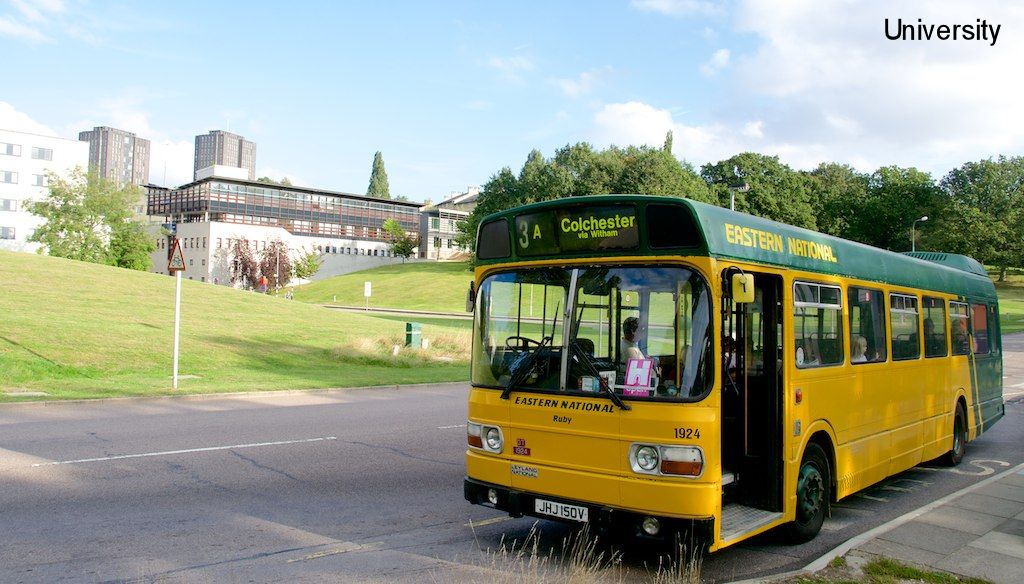 Mersea Barrow
This excursion (Route 67E) depends on the tide times. After leaving the town, it is a scenic drive to Mersea Island with a half hour layover by the Barrow. There are photographic opportunities at the Barrow and along the route. Estimated time is 50 mins each way + 30 min layover at the Barrow.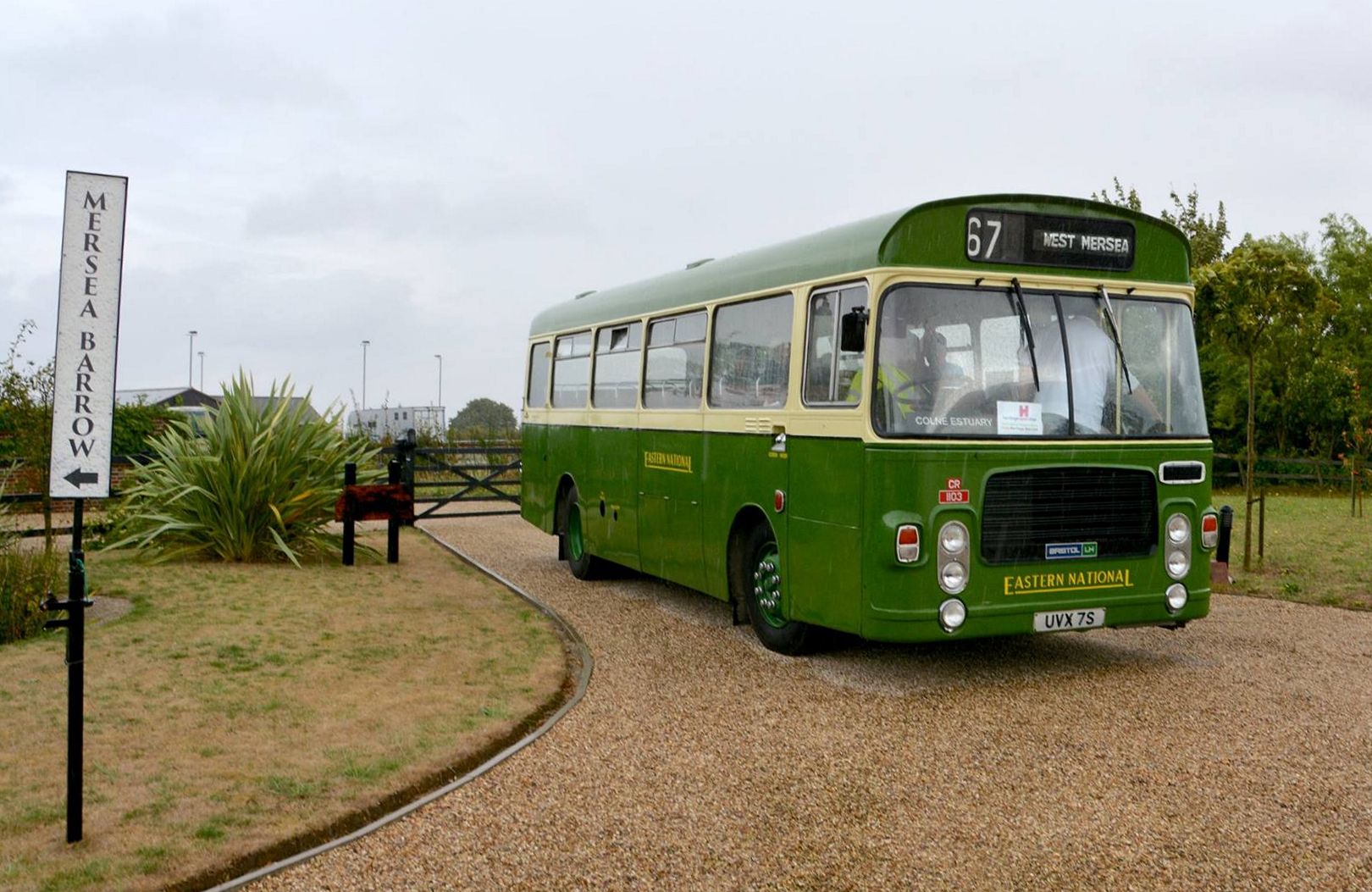 West Mersea Barrow is a conspicuous mound to the left of the East Mersea road as you come onto Mersea Island. It is thought to be a Roman burial barrow, dated 100-120 AD. The mound was excavated in 1912. In its centre was a small brick burial chamber containing a lead box with a wooden lid. The box contained a green glass cremation urn. Analysis of the remains found that the individual was a high-status adult who had been given a high-status burial. These are now on loan from Colchester and Ipswich Ipswich Museums and are on display in Mersea Museum. The barrow is also known as Mersea Mound, Mersea Mount or Grim's Hoe. More information at West Mersea Barrow
Sheepen Road Car Park
This alternative terminus and layover area was used in 2014.

VISITOR INFORMATION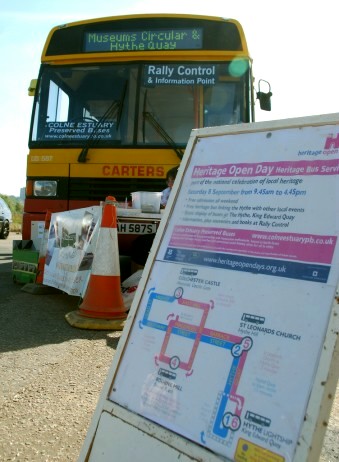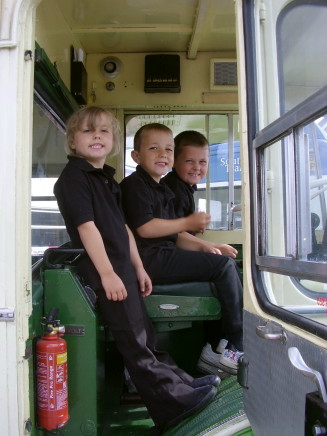 There are toilets near the Castle and plenty of food outlets in town a short walk from the Castle.
No eating or drinking on the buses, please. These heritage vehicles have been lovingly restored by their owners and they want to avoid stains or spillages. You might see the bus crews eating or drinking on buses during layovers, but they're the ones who own and clean the buses!
Because of their age, most of the buses are step entrance, but drivers and conductors are happy to help passengers with pushchairs, wheelchairs or walking aids, or those who are less mobile. Though these older vehicles don't have disabled seating areas, the crew will do their best to accommodate you and help with stowing pushchairs in the luggage areas.
THE BUSES
The heritage buses come from various preservation groups in north Essex. Many are either driven or conducted by the owners who are preserving them. The event has been supported by members of Colne Estuary Preserved Buses, Yeldham Transport Museum and John Jackson & Tony Melia (GR9007). The half-cabs and open-tops are always popular: Sunderland Corporation Crossley GR9007; Eastern National open-top KSW WNO479 and Southdown open-top PD3 BUF426C and we aim to have at least one of these at the event each year.
2010: UAR597W (Bristol VR), FWC439H (Bristol RE), C415HJN (Leyland Olympian), GR9007 (Crossley DD42), RVW90W (Atlantean)
2011: UVX7S (Bristol LH), FWC439H (Bristol RE), BUF426C (PD3 open top), YEV307S (Leyland National), KRU848W (Bristol VR), GR9007 (Crossley DD42), C415HJN (Leyland Olympian, display only), WNO479 (Bristol KSW, open top), KPJ264W (Atlantean)
2012: UVX7S (Bristol LH), FWC439H (Bristol RE), WAH587S (Leyland Greenway), GR9007 (Crossley DD42), JHJ150V (Leyland National), BUF426C (PD3 open top), KRU848W (Bristol VR), CUV306C (London Routemaster, display only)
2013: UVX7S (Bristol LH), GR9007 (Crossley DD42), JHJ150V (Leyland National), BUF426C (PD3 open top), B115LDX (Leyland Bristol B21), RGV690W (Bedford Duple Dominant II)
2014: Services ran from Sheepen Road car park due to King Edward Quay closure. UVX7S, BUF426C, GR9007 (Crossley DD42), AJN825 (Bristol K), JHJ150V, GV690W
2015: Unfortunately, due to the High Street closure, it was not possible to run a heritage bus service on Heritage Open Day 2015.
2016: UVX7S, UFM53F (Crosville Bristol RE), JJT437N (Wilts & Dorset Bristol VR), VNO740S (Thamesway Leyland National), KMW175P (Daimler Fleetline Open Top), M41EPV (Volvo Olympian) and TCD490J (Southdown Bristol RE)