2016 CLACTON BUS RALLY
5th June 2016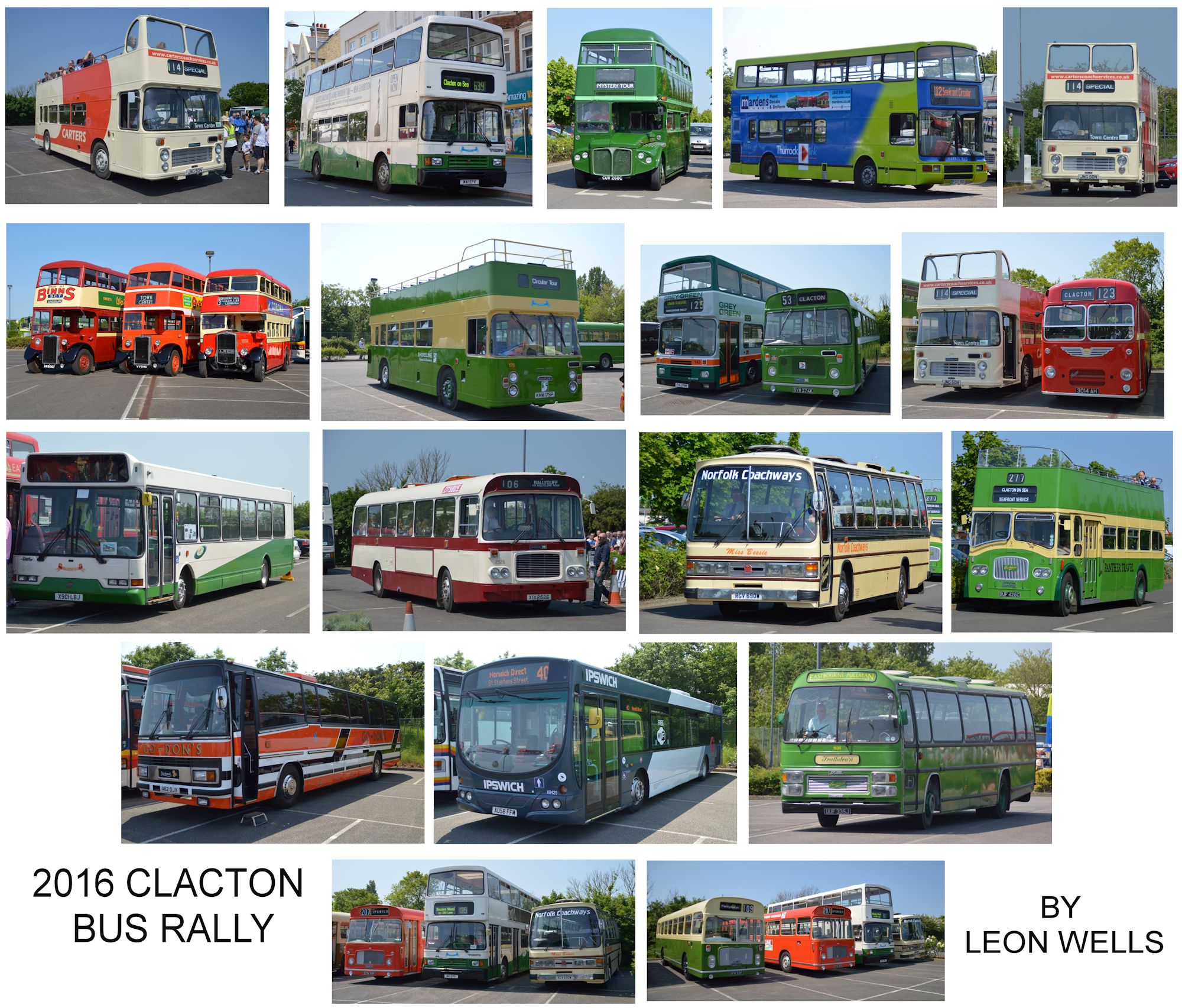 The Clacton Bus Rally is a family day out as well as an enthusiast event. With regular shuttles to the station, a seafront sightseeing bus, and other round trips, rally visitors can also visit Clacton-on-Sea's pier and attractions as well as going shopping in Clacton Shopping Village. The casual visitor may find buses similar to those from childhood. Many owners will let you sit on board to soak up some nostalgia. Some will even let children sit in the cab to geta driver's-eye view. The bus rides let the younger generation experience the transport of the past.
For the transport enthusiast, as well as static displays, and bus rides, there is a collectors market and food available both on the rally site and in the Shopping Village. The rally is laid out public safety in mind. While many of the heritage buses offering rides are step entrance, rally marshals are on hand to help less mobile guests. Please let the marshal know if you need assistance. The rally is held on hard standing, making it fully wheelchair accessible. Children's pushchairs can be left at Rally Control if there is isn't enough luggage space on the bus. Toilets and cafe facilities are available in the Factory Village itself (accessible by underpass from the rally site).
The Rally Control Rally bus will provide information timetables, car graphs, duty sheets and rally packs (commemorative mug, programme and snacks) for entrants. Transport-related fundraising items - programmes, commmemorative mugs, books, postcards etc - are also be available from there.
Vehicle Entries
COLNE ESTUARY PRESERVED BUSES
0001. BUF426C - Leyland PD3 / Northern Counties Queen Mary Open Top – Southdown livery
Entered by Adam Barham
New to Southdown in 1965 as a convertible open top, numbered 426. It was later sold to Harris Bus of Grays before languishing at Ensignbus for 5 years prior to preservation with the Worthing 426 group. She was purchased by Fred Lawrance and converted to the current in open-top form. During 2013 she underwent a complete engine overhaul. In December 2015 she was transferred to Adam Barham for continued preservation.
0002. UFM53F - Bristol RE I ECW – Crosville
Entered by Chris Sampson & Fred Lawrance
New to Crosville in 1968 and allocated fleet number ERG53, this vehicle operated from depots across the Cheshire area. It worked for a number of independent operators in the Liverpool area before being preserved and painstakingly restored by Paul Ashman of Colne Estuary Preserved Buses before being acquired by its current owners for continued preservation.
0003. FWC439H - Bristol RELL / ECW – Eastern National
Entered by David Edwards.
New to Eastern National in 1969 and allocated fleet number 1516, this operated from Kelvedon, Silver End and Chelmsford depots for a number of years before being sold to Kent Council for use as a caravan. Now restored to Eastern National condition.
0004. UUF335J - Leyland Leopard I Plaxton – Southdown
Entered by John Ward & John Roberts.
New to Southdown in 1971 and allocated fleet number 1835, this coach has been with several owners since, notably Woods Coaches of Barnsley; Fairline Mini Coaches, and Carrs Coaches before entering preservation. As part of its preservation, it has been partly fitted with seats and tables.
0005. UVX7S - Bristol LH / ECW – Eastern National - UNABLE TO ATTEND DUE TO CLUTCH REPAIRS
Entered by Sarah Hartwell.
New to Eastern National in 1977 and allocated fleet number 1103, this operated from Colchester depot for a number of years before being sold to Hedingham Onmibus. Now preserved, it doesn't bear the livery of either operator, and bears a commemorative Tilling-style Eastern National livery instead.
0006. JNG50N - Bristol VR/SL2/6LXB-1077 / ECW / Eastern Counties/Carters
Entered by Richard Walker / Suffolk Bus Preservation Group
New to Eastern Counties in 1975 as a conventional double decker. Converted to Open Top configuration in time for the summer season in 1985. It was withdrawn from service in January 1997, passing to Jordan's (dealer) at Coltishall, albeit engineless by this time. It was purchased for restoration and preservation by Laurence Burt of Shaftesbury in 1997, passing later to Carters in 2006, where the restoration work was completed by 2015. It is now in Suffolk Bus Preservation Group collection for continued preservation.
0007. JHJ150V - Leyland National – Eastern National
Entered by Adam Barham.
New to Eastern National in 1981, it was the last Mk l Leyland National new to that operator. It finished its working life as a driver trainer for the company before being retired. It has been fully restored and preserved by A Barham & Sons.
0008. KOO79OV - Bristol VR/ ECW – Eastern National
Entered by Luke Deal.
New to Eastern National in 1981 and allocated fleet number 3072, the bus operated from a number of Essex depots until becoming a Heritage Vehicle for First Essex Buses. It was acquired by its present owner in 2010.
0009. SVW274K - Bristol RELL / ECW – Eastern National
Entered by Luke Deal.
New to Eastern National in 1972 as Fleet Number 1546. It remained in service with ENOC until the 1980s. It was later operated by Essex County Council Education Department as a non-PCV bus. From May 1994 it saw service with Carters Coach Services (of Capel St Mary, Ipswich) and in April 1999, it became part of their historic vehicles fleet. It was acquired in June 2013 by Luke Deal, restored inside and out, and now displays its original NBC Leaf Green livery.
0010. RGV690W - Bedford YMT / Duple Dominant II – Prince of the Road
Entered by Dan Trent / Suffolk Bus Preservation Group.
New to Suffolk County Council in April 1980. It later went to Hodges Coaches of Sandhurst; then Jervis of Stoke-on-Trent in December 2009.
0011. B115LDX - Leyland Bristol B21 / Alexander – Ipswich Buses
Entered by Suffolk Bus Preservation Group.
B115LDX is one of six left-hand drive B21 chassis originally destined for Tel Aviv. When the order was cancelled, it was converted to right-hand drive for Ipswich Borough Transport. It has chassis plates from its time in both left-hand drive (export) and right-hand drive form. After service with Ipswich Buses, it was used for schools services, occasionally being hired to Carters Coach Services for school work, then sold to Galloway Coachlines for schools service.
0012. R186DDX - Optare Excel – Ipswich Park & Ride.
Entered by Lyndon Carter.
A former Ipswich Buses Optare Excel, it was new to Park & Ride services in Ipswich before being sold to Norfolk Green. It has been restored to Park & Ride livery.
0013. KMW 175P - Daimler Fleetline – Southdown
Entered by Fred Lawrance.
New to Thamesdown Transport in March 1976, one of ten similar vehicles delivered to the company that year. To celebrate 75 years of Municipal Transport in Swindon, during September 1979 KMW 175P was painted in Swindon Tramways livery and rallied by the company as a show vehicle in addition to normal duties. Converted to open-top in 1986 and given the name "I K Brunel" at this time. It spent 2005 with Phil Blair Bus Marketing of Eastleigh, and 2006-2015 with Chris Pearce of Worthing, taking on Southdown livery in 2009. It was acquired in December 2015 by Fred Lawrance.
0014. JJT437N - Bristol VR / ECW – Hants & Dorset
Entered by Michael Cole.
New to Hants & Dorset in 1974 as 3325, this operated from Salisbury and Poole depots. Upon withdrawal from Wilts & Dorset it went to Beestons and then Venturer Travel before entering preservation.
0015. KRU848W - Bristol VR / ECW – Wilts & Dorset
Entered by Michael Cole.
New to Hants & Dorset in December 1980, becoming a Wilts & Dorset bus in 1983. It was totally refurbished by December 1996 and ended its service life at Lymington in 2008. It was later acquired by Michael Cole and has been restored and reliveried in Wilts & Dorset colours.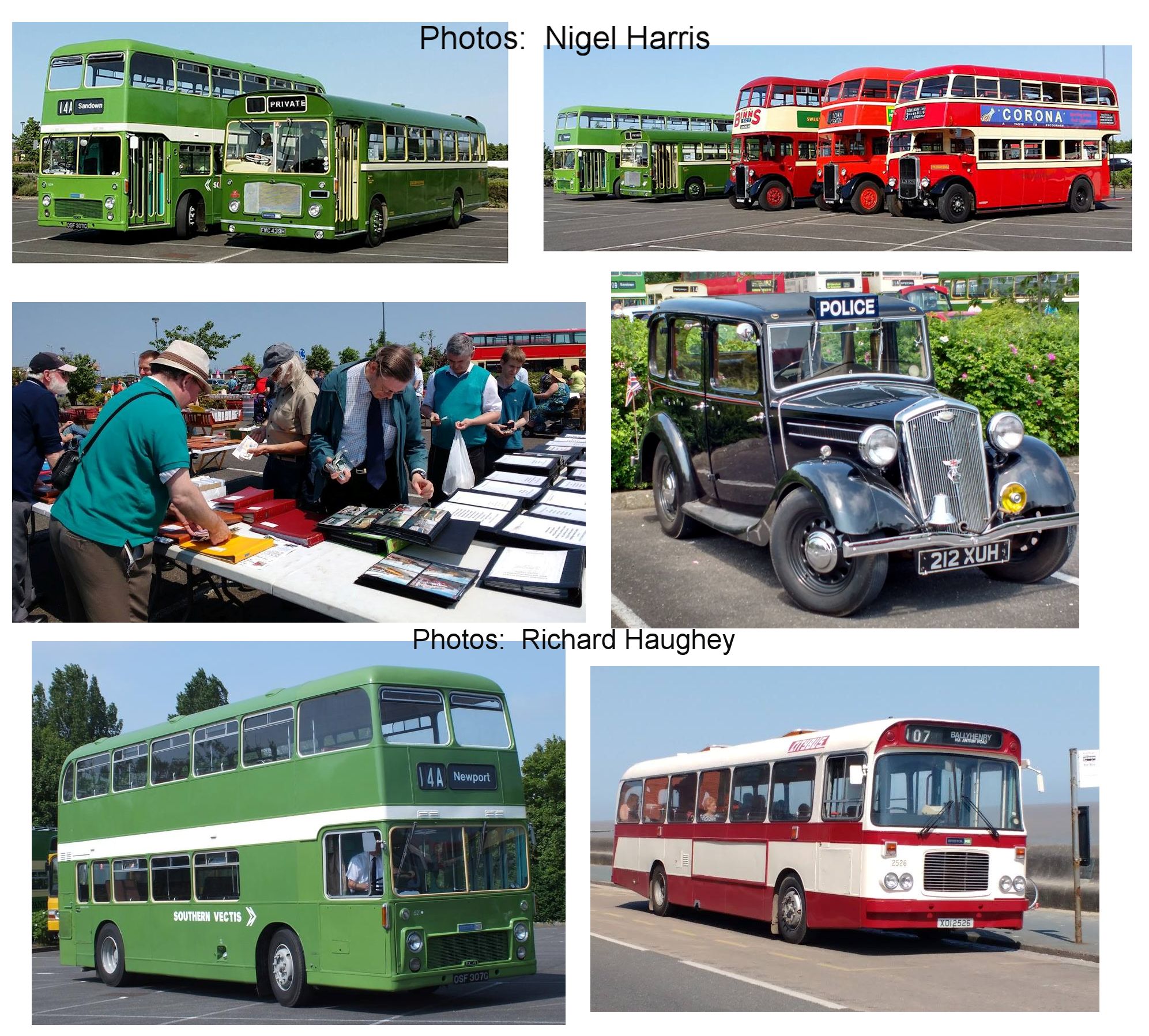 OTHER ENTRANTS
0020. UAR597W - Bristol VR /ECW – Eastern National
Entered by John Day.
New to Eastern National as fleet number 3l07 in 1981. The vehicle has worked across Essex, ending its Eastern National service at Walthamstow Garage before transferring to Western National. It later entered preservation and is now in the ownership of former Eastern National driver John Day.
0021. P337ROO – DAF DB250RS / Northern Counties Palatine 2 – Harris Bus / Ilford Link
Colin Thorne . Former Harris Bus/Ilford Link bus, currently rallied in its previous operator's (TM Travel) livery. Formerly at Yeldham Transport Museum and now part of the Basildon Bus Rally Group.
0022. AJN825 – Bristol K5G / ECW – Westcliff-on-Sea
Entered by Martin White for the AJN825 Preservation Group.
Always a favourite with photographers and on bus rides, this is a 1939 Bristol K with 5 cylinder Gardner engine. The body is an Eastern Coachworks Low Bridge design. This bus was new to Westcliff-on-Sea Motor Services on 31st March 1939 and was lent to Bristol during the war. It is believed to be the oldest K in existence, carrying the oldest known double deck body by ECW of Lowestoft.
0023. GR9007 - Crossley DD42/3 – Sunderland Corporation
Entered by Gary Sharpe (on behalf of J Jackson & T Melia).
One of a batch of 6 delivered to Sunderland Corporation Transport in April 1947. It was converted to a mobile polling station and used as such from 1962 to 1972. It was rescued from a dealers in 1985. Restoration did not start until acquisition by its current owner in 1999. Restoration to its current state took 7 years as the body needed to be completely rebuilt.
0024. OSF307G - Bristol VRT Series 1 / ECW / NBC Leaf Green - Southern Vectis
Entered by Nigel Harris. Owned by Derek Priddle, Farnham, (representing the Isle of Wight Bus Museum)
Built in 1969, OSF307G was originally new to the Scottish Bus Group, as Eastern Scottish AA307. In 1973 it was part of the NBC/SBG exchanges with Bristol FLFs, OSF307G was one of 3 exchanges with Southern Vectis Lodekkas and became fleet number 621. It was modified to its current H39/31F configuration prior to entry into service on the IOW
0025. 373WPU - Guy Arab Mark 4 / Massey - Moore's
Entered by Dave Tocker.
1961 53 seat Massey-bodied Guy Arab, supplied new to Moore's Brothers of Kelvedon, Essex and in main line service until Moore's was sold to Eastern national in 1963. It continued in service with Eastern National until 1974/5 when it was sold for preservation. It has a non-standard front, known as a Johannesburg or South African front.
0026. E343TYD - Mercedes 709 / Reeves Burgess
Entered by Malcolm Alder of Malcolm's Bus Service
Built 1988 and operated by Village Cars around Woburn and then with with Felix of Long Melford before becoming part of Malcolm'sBus Service. this vehicle is based at Clacton Common coach park.
0044. TIL6709 (C658KVW) - Bedford YNV/Van Hool
Entered by Robert Bishop
1986 white Bedford Van Hool, 53 seats.
0027. F143PHM – Volvo B10M / Alexander – Grey-Green
Entered by Terry Collett.
Alexander-bodied Volvo, new to Grey-Green in 1988. It has also served with Arriva London North (red and cream livery), Fleetlink and latterly Crawley Luxury Coaches. It was most recently liveried in green and cream, but may be restored to one of its former liveries.
0028. KXW234 - AEC Regent RTIII / Weymann - London Transport (Green)
Entered by the East Anglia Transport Museum
Chassis built in 1940 and bodywork built in 1950. Fleet number - RT3125
0029. VV9146 - Crossley / Roe - Northampton Corporation
Entered by Gary Sharpe (on behalf of J Jackson & T Melia).
After 7 years of painstaking restoration from a near-derelict state, this 1946 Roe-bodied Northampton Corporation Transport Crossley made its preservation debut at the 2015 Clacton Bus Rally and we are pleased to see it heere again.
0030. GYE 394W (MCW Metrobus) - London Transport (Red)
Entered by Neil Bowyer
New to Aldenham Works in September 1980, one of a batch of 300 Metrobuses ordered by London Transport for delivery in 1979/80. M394 was allocated to Finchley Garage (FY) in October 1980 replacing RM's on routes 26, 125, 221 & 263. Following delivery of new buses from the 1981 order to Finchley M394 was transferred to Uxbridge Garage (UX) in August 1981. M394 then spent 2 years at Alpeton Garage (ON) from September 1982 before being delicenced, returning to service at Alperton in February 1985. Transfered to Willesden (AC) in 1988 and then Harrow Weald (HD) in 1993, M394 was privatised to Metroline in 1994, remaining at Harrow Weald Garage until withdrawal in 1999. Following withdrawal M394 was bought by Ensign (dealer) and soon entered preservation, bring purchased by the current owner in June 2011. Although the bus was repainted into LT red during the early 2000's, it has been used in service since and is currenty in 'as used' condition.
0031. VNO859 - Bristol KSW5G 55RD – Eastern National
Entered by Ian Sharpe for the 1407 Preservation Group.
This bus entered service with Eastern National Chelmsford Depot in 1953 and remained with the company until 1970. before going into preservation with the Eastern National 1407 Preservation Group in Hadleigh. This visiting vehicle kindly operated some free services during the day.
0032. Routemaster (exact one TBC) London Bus Company
Entered by Thomas Simcock on behalf of The London Bus Company.
The London Bus Company vehicle will operate London Bus Mystery Tours.
0033. Talisman Coachlines (vehicle TBC)
Entered by Paul Smith on behalf of Talisman Coachlines
0034. WLT 857 - AEC Routemaster - red/cream band
Entered by Trevor Wright on behalf of Upminster & District Omnibus Preservation Group
New 1961 to London Transport Stamford Hill garage, serving at Edmonton, Cricklewood, Dalston, New Cross, Tottenham, Middle Row and Clapton. Carrying body B1819 upon withdrawal and into preservation.
0035. WYV 66T - Leyland Titan - red/white/silver/black
Entered by Trevor Wright on behalf of Upminster & District Omnibus Preservation Group
New 1979 to London Transport Romford Garage, repainted into "1933 General" livery at Aldenham Works and allocated to Hornchurch Garage. Subsequently working many garages. Ended up with Sullivan Buses before entering preservation.
0036. KJD53P - Leyland National - London Buses LS35 Red/Gold Livery
Entered by Andrew Davey
1976 Leyland National. New to London Transport and operated on the Docklands Express, route D8. Upon privatisation she went to Westlink. After withdrawal she went to Thames Valley Training at Slough, Berkshire before entering preservation.
0037. LHR446 Bedford OB / Duple
Entered by Brian Stevens.
This 1950 29-seat Bedford OB was restored to its original Kirby's blue-and-cream livery by the current owner during 2011/12.
0038. HTA844N - Leyland National Mk 1 - NBC green/white
Entered by Steve Kirk
1974 49 seat Leyland National Mk 1; this was the last National in service for First Red Bus in Devon. It carries Fleet No 12813.
0039. XOI2526 - Bristol RELL / Alexander (Belfast) - Maroon & Cream livery
Entered by Andrew Cook / The Cookies
Belfast Citybus vehicle. Built in 1982, but stored until first use in 1984. Used by both Citybus and Ulster bus. Withdrawn from Citybus service in 2003, then spent 2005 - 2009 with a dealer before going into preservation.
0040. M530RHG - Volvo Olympian / Alexander Royale - Mulleys Motorways
Entered by Mulleys Motorways
One of two such Olympians operated by Mulleys and which were new to Rossendale Transport in August 1994 (M529RHG & M530RHG). They were re-lettered with the Mulleys fleetname in December 2011. Trivia: M530RHG was delivered to Rossendale as L129LFR while M529RHG was delivered as L130FLR.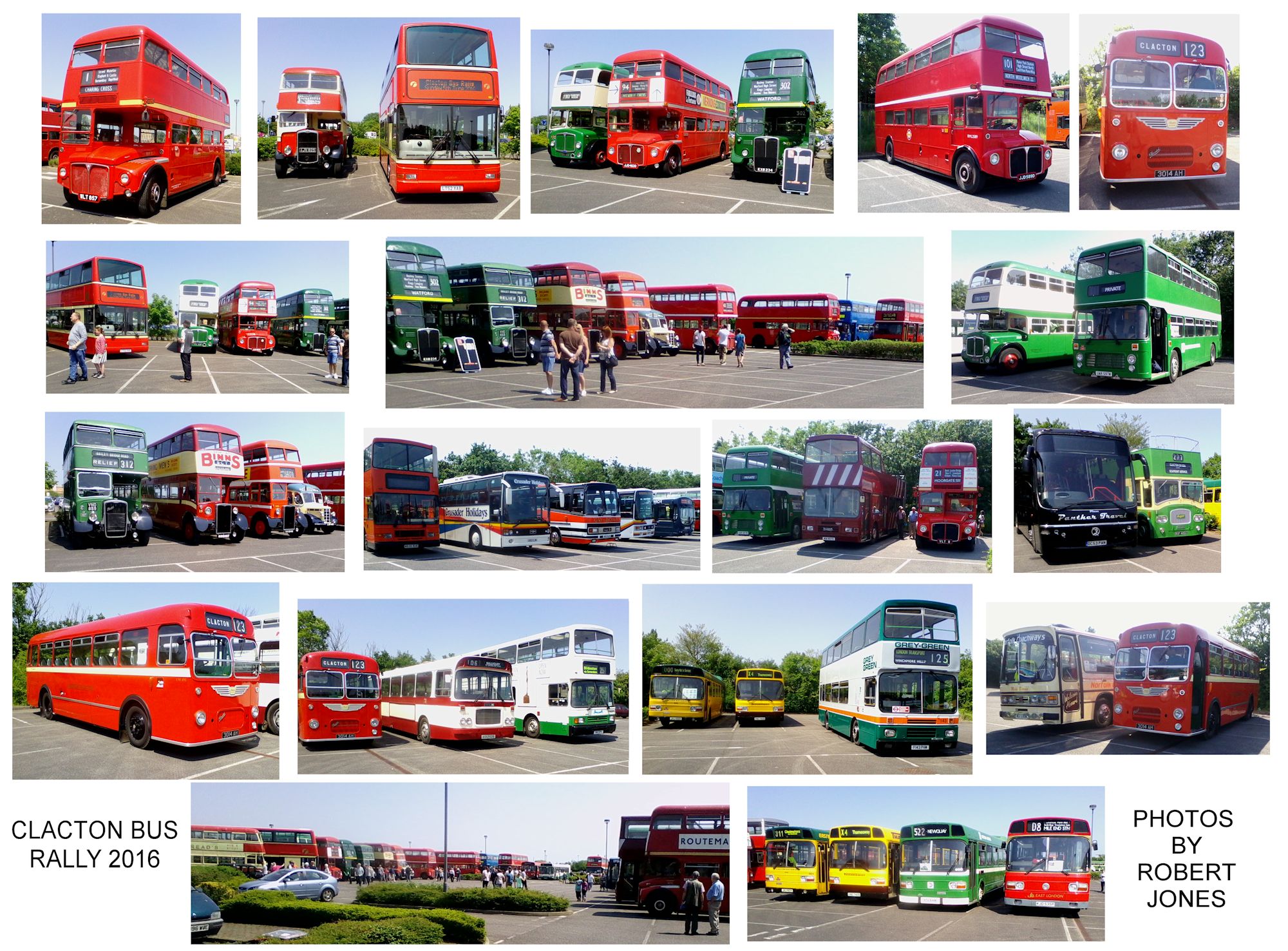 0041 - 0050 PANTHER TRAVEL (vehicles TBC)
Reserved for our rally sponsors, Panther Travel and A Barham & Sons, depends on operational requirements/rail replacement duties.
0051. VLT 8 - A.E.C. Routemaster / Park Royal - London Transport Red
Entered by Adrian J Robinson on behalf of the RM8 Club
This was the first production Routemaster, shown at Earls Court Commercial show in 1958 and subsequently used as an experimental Vehicle, only entering revenue earning service in 1976, it was withdrawn in 1985 at which time it was purchased by the club. It is kept in as near original condition as possible. It has a club mailing list at RM8 Club
0052. T447 KYV447X - Leyland Titan / London Transport
Entered by Colin Humphries, Ipswich Bus Preservation Group
1982 Leyland Titan new to London Transport, fleet number T447.
0053. P192SGV - Optare Excel Mk1 / Ipswich Buses
Entered by Colin Humphries, Ipswich Bus Preservation Group
New to Ipswich as one of 6 Excels built (and 1 ex-Demo) for the town network and given fleet number 192. Upon Ipswich Buses loosing the Park and Ride contract, most of Excel Mk1 fleet were sold to Ensign (Dealer). Carters required a full size low floor service bus and purchased 192. Upon disposal from Carters Simonds (Diss) acquired it. It kept the Carters livery for a while with Simonds fleetnames before being re-registered as JGV929 and repainted into Simonds standard fleet livery. In September 2014, it was withdrawn from service and in February 2015, 192 (reverting to P192SGV) was purchased for Preservation by the Ipswich Bus Preservation Group.
0054. LT52 XAB Dennis Trident 2 / Plaxton President - Westcliff On Sea Motor Services Livery
Entered by James Johnson on behalf of First Buses.
This 2002 Dennis Trident 2 wears a commemorative Westcliff On Sea Motor Services Livery.
0055. VLT 196 - Routemaster RM196 / Park Royal
Entered by Jim Carr
1960 AEC Routemaster Park Royal H36/28R body new in Feb 1960 to London Transport.
0056. KPJ259W - Leyland Atlantean/Roe - London Country
Entered by Paul Paske.
Roe-bodied Leyland Atlantean AN68/1R; Fleet No: AN259, currently residing at Yeldham Transport Museum. New to London Country in January 1981. Also worked for Filmflow (blue livery) before entering preservation.
COLLECTORS' MARKET
Bits & Bobs (Robert Franklin) (transport related memorabilia and more)
Mankim Models (diecast models)
Cambridge Omnibus Society (photos and other memorabilia)
M Chaplin (collectible toys and models)
Essex Bus Enthusiast Group (EBEG publications, photos and group membership)
Ian Simmons - Diecast models
Paulson's Close Photos
Robert Macmillan, Norbury & South London Transport Club - Transport Books and Videos
Steve Maskell - Transport photos and books
The Utility Warehouse - Win-a-Mini free draw
Rally Control (event programmes, CEPB mugs, CEPB postcards & fridge magnets, transport-related items
East Side Diner
Julian Bowden - models, books, DVDs, photos, magazines & greetings cards