INTER-GROUP ACTIVITIES
As a group we have a number of "friends and family" pleasure drives where owners show off their vehicles. These pleasure drives means owners who drive their preserved vehicles on the provisions of a car licence can show off their own buses. Our pleasure drives include photo-stops and the timetable helps enthusiasts station themselves along the route. These outings are often arranged at short notice and announced on Facebook and Twitter. We often also run services in conjunction with other transport groups, running free bus services between Colchester and the event.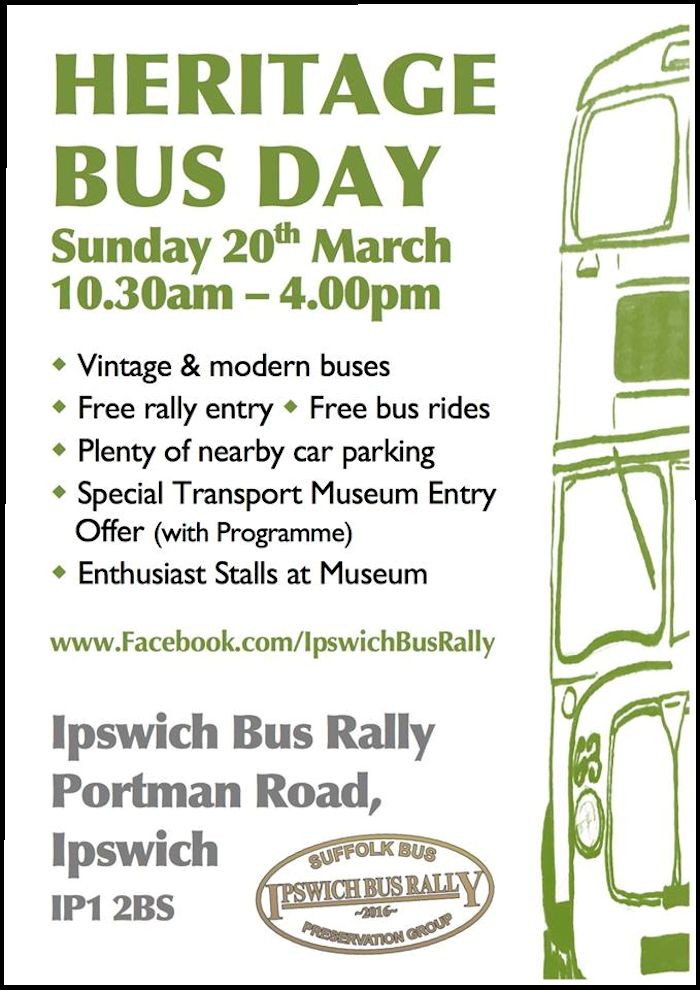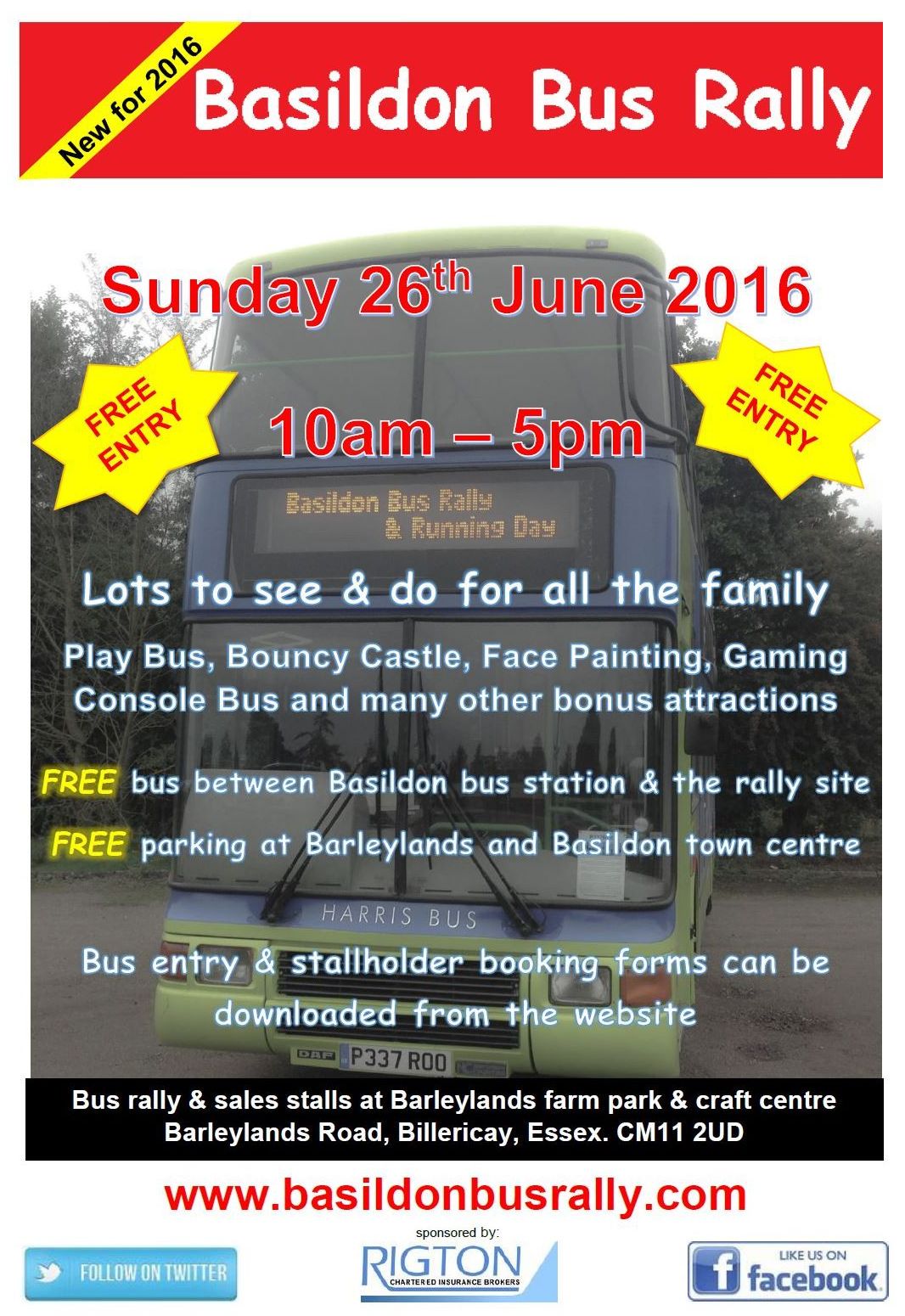 2014 - ISLE OF WIGHT BUS MUSEUM TO VISIT CEPB / SBPG
The East Anglian Transport Museum are holding a gala end of season event on the weekend of 6th/7th Sept. Our friends from the Isle of Wight Bus Museum are planning a weekend trip to take part in this event. They will be leaving the Island on Friday the 5th and coming to Colchester. They plan to visit AJN825, VNO859 and the Crossleys at Wormingford, hopefully using BUF426C as the sightseeing vehicle if the weather is fine. On Saturday they will attend the rally at Carlton Colville. Some vehicles from Colne Estuary Preserved Buses and the Suffolk Bus Preservation Group will join them on one or both days. Before leaving on Monday, they will visit Ipswich Transport Museum in the morning.
So look out for their ultra-rare rare Duple-bodied Bristol RESH coach 301 (KDL855F, Southern Vectis) at those venues and travelling around the Colchester and north Essex area!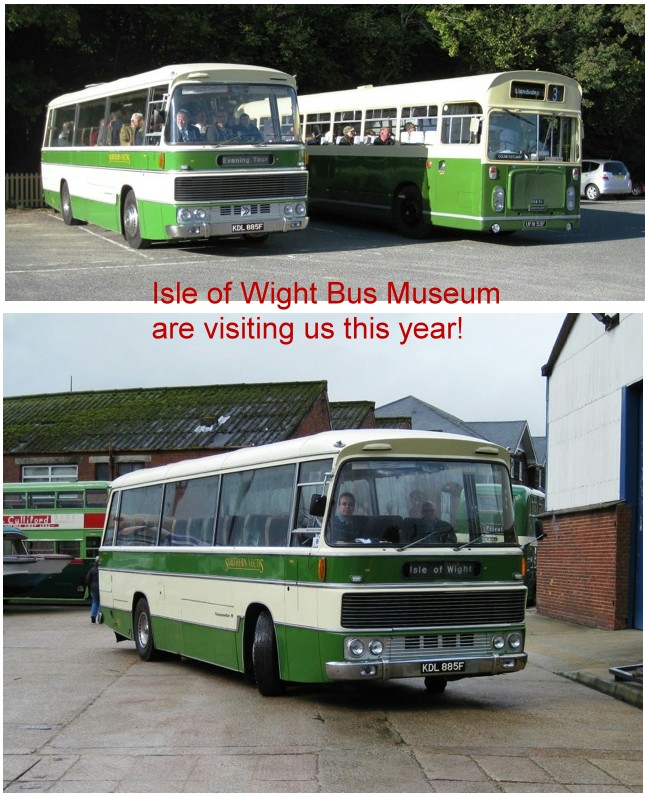 2013 - 60 YEARS OF CHANTRY ESTATE / STATION SHUTTLE
On 31st August 2013, the Suffolk Bus Preservation Group paraded their vehicles in Ipswich in conjunction with the Ipswich Transport Museum. This was an opportunity for the owners/drivers to show off their vehicles and provide photo opportunities for enthusiasts. A number of classic buses ran services around Chantry estate (from Ellenbrook Road turning circle to Birkfield Drive) and to the Station. The day ended with the CEPB vehicles stopping close to Ipswich Depot for photos.
WAH587S, R186DDX and B115LDX all ran services that day.
2013 - 85 YEARS OF COLCHESTER MOTORBUSES / EAST ANGLIAN RAILWAY MUSEUM SHUTTLE
In May 2013, we ran heritage bus services between Colchester and the East Anglian Railway Museum's Transport Extravaganza at Wakes Colne to commemorate 85 years of Motor Buses in the town. At the end of the event, the bus cavalcade ran through Colchester.
Our buses ran free shuttle services on Saturday 11th May & Sunday 12th May, between Colchester and the museum's Transport Extravaganza, plus an hourly free shuttle/scenic ride between the museum and Bures village station during each day. On Saturday WAH587S, UVX7S and RGV690W were on free shuttle duty, joined by Sunderland Crossley GR9007. When not out on shuttle duty, these buses were on static display at the EARM alongside other classic vehicles including from tractors, commercial vehicles, classic and vintage cars, and buses from Yeldham Transport Museum, Ipswich Transport Museum and the AJN825 Preservation Group.
On Sunday, WAH587S, UVX7S, RGV690W, FWC439H, KOO790V and J160LPV operated the free shuttle services, again joined by GR9007. At the end of each day, the three CEPB vehicles drove in a cavalcade through Colchester to celebrate 85 years of motorbus services in the town. As with the previous year, the Cavalcade around town was a "friends and family only" event with a photo-stop along the way.
There was plenty to see and do at the railway museum, and a range of sales stalls, making this an enjoyable event for visitors and exhibitors alike. The shuttle bus routes and the end-of-day Cavalcade offered enthusiasts plenty of opportunities for photography.
2012 - COLCHESTER BUS STATION FAREWELL
The 2012 Colchester Cavalcade was arranged at very short notice by email, Facebook and Twitter and paraded several preserved buses along Colchester High Street as an end-of-season outing for friends and family of the vehicle owners. Held in October as a spontaneous event, this paraded several former Eastern National vehicles through Colchester and returned them to Colchester Bus Station (Queen Street) before it closed after 51 years of service. Several of our friends from the Essex Bus Enthusiasts Group were aboard the buses for the ride round town and the photo-stop.
KOO790V, UVX7S, FWC439H, JHJ150V (all CEPB) plus CPU979G (Blackwater Preservation Group) represented various Eastern National liveries from pre-NBC to latter-day greens-and-yellow. These were joined by GR9007 (Sunderland Corporation Crossley, from Wormingford), RVW90W (from the Talisman heritage fleet), CUV306C (Mark Lawford's London Transport Routemaster) and RGV690W (Dan Trent's Bedford coach "Prince of the Road").
The buses travelled in convoy from Severall's Business Park through Colchester town centre (Head St, High St, Queen St) and gathered for photos at the bus station on Queen St - bemusing staff and public alike. While camera-carrying enthusiasts and the occasional enthusiast group outing are regular sights at bus stations, it's not every Sunday that 8 historical buses turn up at once!
After a photo-stop at the Bus Station, the Cavalcade did a second circuit of the town centre (St Botolph's Street, Osborne St, St John's St, Head St, High Street) before departing Colchester. The Cavalcade of classic buses turned plenty of heads as it went through Colchester - no doubt members of the public wondered what on earth was happening. Next year we hope to run this event in a more organised way in conjunction with other heritage transport groups.