BRAINTREE RUNNING DAY
Braintree Running Day 2012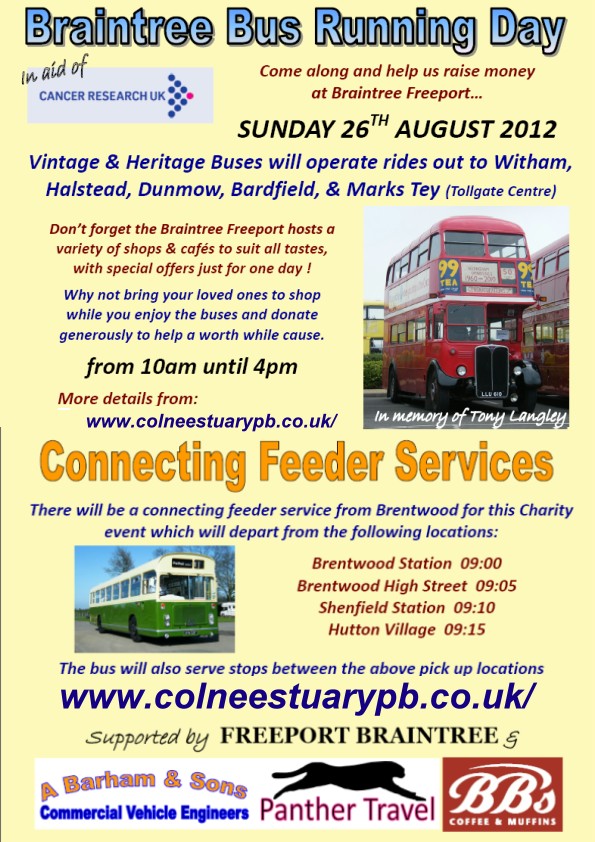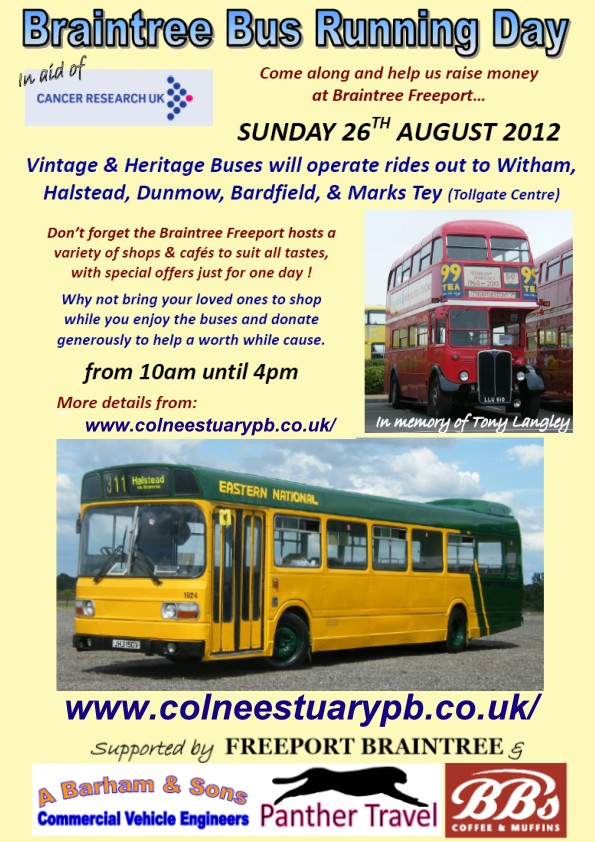 The first Braintree Running Day 2012 was held at Freeport Outlet Centre on Sunday, August 26th 2012 from 10am until 4pm in memory of bus preservationist Tony Langley who died in April. Local preservationists used their own heritage buses to raise money for Cancer Research UK. They were granted permission from Freeport Braintree to operate from their coach park on the day. Feeder services came in from Lakeside, Brentwood, Chelmsford, Colchester and Royston.
Around 15 heritage buses took part in the first Braintree Running Day offering bus rides out of Freeport between 10am and 4pm, with each route being approximately 1 hour. The buses operated routes to Witham, Dunmow, Halstead, Marks Tey and Finchingfield/Gt Bardfield. There was no charge for bus rides, but all buses carried a donations bucket to raise money in aid of Cancer Research UK. Those not wishing to ride the buses were able to watch or photograph them entering and leaving Freeport and there were also donations buckets at Freeport coach park. Drivers and conductors donated their time and bus owners donated the use of their buses and covered the fuel costs.
The heritage buses partly recreated old Eastern National routes at the same time as providing links between Freeport and nearby towns for the day. They provided links to Witham and Marks Tey Rail Stations. During the ride the buses stopped for photo opportunities in scenic locations. Unfortunately, the 2012 event suffered from poor publicity and attracted fewer people than hoped. However £700 was collected in donations and it is hoped that it will run again in 2013 with better promotion.
Freeport Braintree has its own rail station and there is also a regular free Regal Busways shuttle service between Freeport and Braintree Bus Park. Freeport has plenty of car parking though a charge is payable if staying all day ... and has plenty of shops and restaurants for enthusiasts' friends and families.
There was limited layover space at Freeport and no room for static display entries so each bus undertook 4 one-hour journeys during the day. No programmes were produced for the 2012 Braintree Running Day, but if the event runs again in 2013, we plan to produce programmes providing information about the vehicles entered. We hope to use some of the car park in 2013 for layovers, especially to rest the older vehicles.
There is a nice write-up of the event at Braintree Running Day - An Eastern National Feast on the Transport Illustrated blog
The following vehicles were entered for the 2012 Braintree Running Day.
Registration

Chassis

Body

Vehicle Type

Livery

AJN825

Bristol K

ECW

Double Deck, Half Cab

Westcliff-on-Sea

VNO859

Bristol KSW

ECW

Double Deck, Half Cab

Eastern National

TCD490J

Bristol RE

Marshall

Single Deck

Southdown

WNO479

Bristol KSW

ECW

Double Deck, Half Cab, Open Top

Eastern National

C415HJN

Leyland Olympian

ECW

Double Deck

First Eastern National
Not owned or operated by First

MOO177

Bristol MW

ECW

Single Deck

Eastern National

WAH587S

Leyland National

Greenway

Single Deck

Carters

JHJ150V

Leyland National

Leyland

Single Deck

Eastern National

D150FYM

Leyland Olympian

ECW

Double Deck

Ipswich Buses

UFM53F

Bristol re

ECW

Single Deck

Crosville

859ETW

Bristol LS

ECW

Single Deck

Eastern National

SVV587W

Leyland National

Leyland

Single Deck

United Counties

A695OHJ

Leyland Tiger

Alexander

Vehicle Coach

Eastern National

LPB218P

Leyland National

Leyland

Single Deck

Southend Transport

FWC439H

Bristol RE

ECW

Single Deck

Eastern National

CUV260C

AEC Routemaster

Park Royal

Double Deck

London Bus Company

KXW171

AEC RT

Weymann

Double Deck

London Bus Company

-

Hedingham Omnibus provided 2 buses from their service fleet; one operated in the morning from Tollesbury depot, the other from Hedingham Depot in the afternoon.

Hedingham Omnibuses
FEEDER SERVICES 2012
Feeder services ran in the morning to bring in heritage buses and visitors from other towns. Return times were advised by the driver on the day.
X14: Brentwood to Braintree
Brentwood Rail Station (09:00), Brentwood High Street (09:05), Shenfield Rail Station (09:10), Hutton Village (09:15); Chelmsford Rail Station.
* 3 buses ran from Chelmsford Rail Station to Braintree departing 09:00, 09:30 and 09:45
X66: Lakeside to Braintree
Lakeside Bus Station (08:10 and 08:30)
Pitsea Rail Station (09:00 and 09:10)
X22: Colchester to Braintree
Colchester North Station (09:05, 09:25, 09:45 and 10:05)
Stanway Tollgate Centre (09:25, 09:45, 10:05 and 10:25)
Marks Tey Rail Station (09:34, 09:54, 10:14 and 10:34)
53: Colchester to Witham / 335: Witham to Braintree
Colchester North Station (08:50); following route 53 from Lexden to Witham. Departs Witham rail Station (09:35); then following route 335 to Braintree.
X99: Royston to Braintree
Royston Rail Station (09:20)
TIMETABLED SERVICES TO/FROM FREEPORT
Route 124: Freeport to Stanway Tollgate Centre
Departing Freeport (10:50), Tollgate Centre (11.25) then every 60 minutes
Route 310: Freeport to Great Dunmow
Departing Freeport (10:20), Great Dunmow (11:00) then every 60 minutes
Route 311: Freeport to Halstead
Departing Freeport (10:10), Halstead (10:35) then every 30 minutes
Route 321: Freeport to Finchingfield/Great Bardfield
Departing Freeport (11:15), Great Bardfield (12:00) and Finchingfield (12:20) then every 30 minutes
*This route not operated by the older vehicles due to hill starts at traffic lights.
Route 335: Freeport to Witham
Departing Freeport (10:00), Silver End (10:19) and Witham (10:35) then every 30 minutes
* Additional 09:35 from Witham to Freeport operated.
* Additional 17:25 from Braintree back to Witham operated.
Route 451: Celebration runs to Halstead and return
13:55 - 30 years of Olympians (convoy)
14:55 - 40 Years of Nationals (convoy)
15:55 - 50 Years of RE's (convoy)
* Stopping for photographs at terminus in Halstead.